Griff Jenkins' recent report on the ICE processing center in Adelanto, California for illegal aliens was maddening for the facility's deluxe features and services. Those benefits include free phones made available so Jose can call home and tell all his relatives how generous Uncle Sucker is with the American taxpayer's cash.
Exclusive tour of California immigration facility contradicts claims of inhumane conditions, overcrowding, Fox News, By Griff Jenkins, July 26, 2019

A law library. Access to 24-hour health care and mental care. Outdoor soccer fields.

An exclusive look inside an Immigration and Customs Enforcement detention center revealed scenes dramatically at odds with claims the facilities are poorly run and the scenes of misery and overcrowding.

Fox News was given rare access to an immigration detention facility in Adelanto, Calif. Video cameras were allowed inside. The ICE facility, just one of 31 such centers in the U.S., is run by privately contracted company GEO Group.

During a tour led by Thomas Giles, acting director of ICE's Los Angeles field office, Fox News observed detainees had access to 24-hour health care, dental care, mental health care, unlimited phone calls, legal advice, a law library, physical-contact visitations, outdoor recreation and religious services seven days a week. (Continues)
However, anyone paying attention to the history of accommodations for America's invaders wouldn't be surprised by the luxury which was reported at least as early as 2012.
The Karnes City Texas center was so over the top that in 2012, the House Immigration Subcommittee investigated the $30 million spent on the Karnes facility in a hearing called Holiday on ICE.
Chairman of the full House Judiciary Committee Lamar Smith remarked during the hearing:
Among the new amenities, the Karnes City facility contains a library with free Internet access, cable TV, an indoor gym with basketball courts, soccer fields, and sand, and that is for beach volleyball. Instead of guards, unarmed ''resident advisors'' patrol the grounds. And the cost of the complex: over $30 million taxpayer dollars. . .

This hearing is entitled, ''Holiday on ICE,'' because ICE has decided to upgrade accommodations for detained illegal and criminal immigrants. While we would all like to be upgraded, we do not have the luxury of billing American taxpayers or making Federal law enforcement agencies our concierge.
Below, the Karnes Library includes books and the internet in a comfy setting.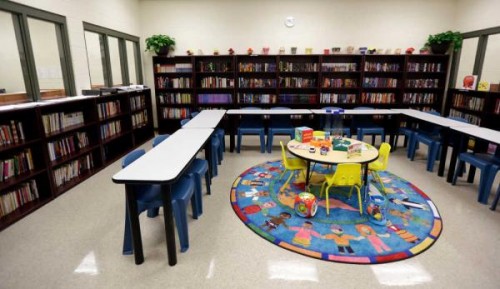 Karnes also had racks of free new clothes with the tags still attached for the illegal kiddies.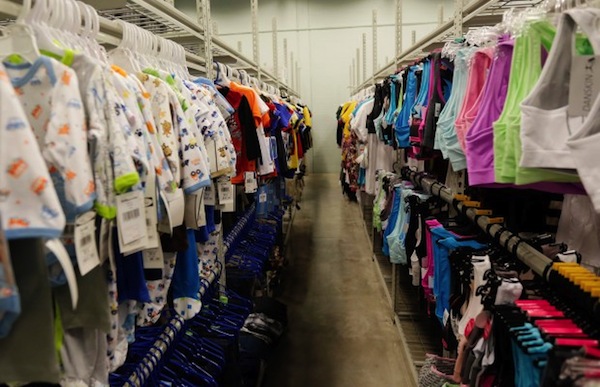 Greta van Susteren was outraged at the luxury and cost of the facility—$140 per resident daily x 532 detainees = $74,500 per day total:
When the US jail is nicer than the homes of illegal aliens, why would they stop coming? Obviously Americans are rich and generous toward foreigners, even invaders—that's the encouraging message the aliens are getting from the excessive TLC. Negative reinforcement is needed not these constant rewards for lawbreaking.
Finally, another reaction to Griff Jenkins' report came from Sabine Durden, whose son Dominic was killed by a drunk-driving illegal alien with previous arrests. She recognized the facility as the one where her son's killer was housed in deluxe accommodations.
She also objected to Adelanto's opulence for lawbreakers, remarking, "They shouldn't have that kind of luxury. We have American citizens out on the street that wish they could stay there for a weekend. I know this one thing, that illegal aliens whether they get caught or they just sneak in and don't get caught, it's a win-win for them. In Adelante they go to Club Med; they get their dental, medical issues taken care of. If they don't get caught, they work under the table, make tax-free money and send it back—while American citizens don't have that. It's not fair: they should have three warm meals and get out of this country, deported swiftly."
Sabine Durden spoke at Donald Trump's Republican Convention about victims of illegal alien crime.