Some may remember that Obama intoned several times that he as president couldn't unilaterally amnesty illegal alien kiddies, known as "dreamers" under the DACA program, then he went ahead and did it anyway.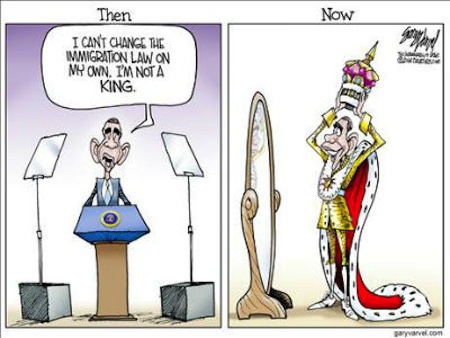 When President Obama announced the program on June 15, 2012, he stated clearly:
Now, let's be clear — this is not amnesty, this is not immunity. This is not a path to citizenship.
But now we learn from a recent report that DACA is a "path to citizenship" because of an Obama "loophole" — what a shock.
Say, am I unduly suspicious, or is immigration law filled with an abundance of "loopholes"? (A Google search today for Immigration Law Loophole gets over four million results.)
Here's a news article about DACA loopholes that appeared on Friday's front page of the Washington Times:
'Paroled' Dreamers exploit Obama loophole on path to citizenship, by Stephen Dinan, Washington Times, October 24, 2019

DACA wasn't supposed to be a pathway to citizenship, yet at least 14,000 illegal immigrant "Dreamers" managed to use the Obama-era deportation amnesty for exactly that purpose, the government revealed this week.

The Dreamers took advantage of a "loophole" that allowed them to leave the country and be "paroled" back into the U.S. — and under the law, anyone who is paroled can apply to adjust their status to a full legal permanent resident, or green card holder.

That's the key intermediate step on the path to citizenship.

"[President] Obama repeatedly maintained that DACA was not an amnesty, would not give immunity for illegal residence, nor a path to citizenship, but this improper loophole was set up to do exactly that — an expedited, consequence-free path to citizenship for those with a spouse or employment sponsor," said Jessica Vaughan, policy studies director at the Center for Immigration Studies.

The revelation came in a filing in the ongoing litigation over President Trump's 2017 attempt to phase out the program.

The government reported the number who received expedited status through marriage to a U.S. citizen.

Ms. Vaughan said there could be thousands more who got green cards through job ties or other family relationships.

The Trump administration reported to Congress in 2017 that more than 45,000 DACA recipients had been granted advance parole ­— permission for those in the U.S. without permanent legal status to leave and then re-enter — creating the opportunity for them to find a valid visa that would earn them a path to citizenship.

Mr. Obama, in creating DACA through a Homeland Security memo in 2012, insisted those who applied weren't getting a leg up.

"Now let's be clear — this is not amnesty, this is not immunity. This is not a path to citizenship," he said.

But his administration, in writing the rules for DACA, opened a very large doorway to that path by specifically granting them the chance to win advance parole. (Continues)