We've been
hearing about self-driving cars for several years
, but until now, there has always been a human in the driver's seat in case anything went wrong. The latest news from Google reveals that its autonomous car, called the Waymo, is ramping up to the next level where no driver will be present at the wheel, although an employee will be present just in case for the time being.
Industry flacks promoting the technology like to tout the increased safety of self-driving cars — 37,461 people were killed on US roads in 2016, an increase of 5.6 percent over the 2015 total.
So if autonomous vehicles can make the highways less deadly, that would be a genuine improvement with all those lives being saved.
But the price is high. Driving is a major occupation in the United States with an estimated 3.5 million Americans employed as commercial drivers.
The map below shows the most common job per state in 2014, and truck driver is remarkable for its frequency.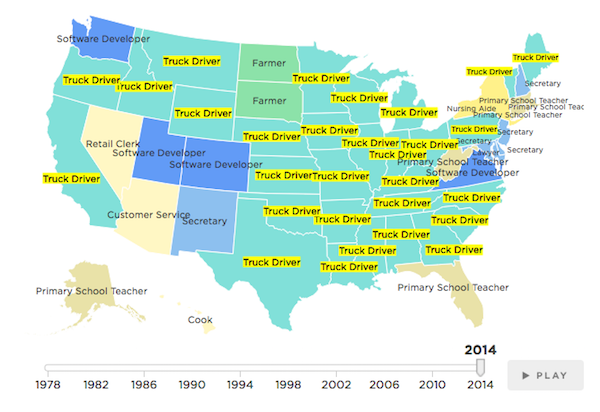 So the approach of true self-driving vehicles is moving ever closer, which promises increased highway safety, but with substantial job loss.
And in the more automated future, it makes no sense for the government to continue to import immigrant workers from abroad.
Waymo to take on Uber and Lyft with its fleet of self-driving minivans, CNBC, November 7, 2017

● Waymo said it plans to start a ride-hailing service with its fleet of driverless Chrysler Pacifica minivans.

● Although Waymo didn't disclose when the service would launch, the first location will be Phoenix.

Waymo goes for driverless ride-sharing from CNBC.

Waymo, formerly known as the Google Self-Driving Car Project, is getting into the ride-hailing business, but with a twist. Sometime within the next few months Waymo will start offering the public rides in driverless Chrysler Pacifica minivans.

"The vehicles will be fully self-driving," said Waymo CEO John Krafcik. "So you have your own personal space where you can sit back and relax."

While Krafcik has yet to say exactly when Waymo's ride-hailing service will launch, the first metropolitan area where people will be able to order a Waymo is Phoenix, he said. The public will use an app to catch a ride just as they do for Uber and Lyft.

Initially, those ride-hailing companies may hardly notice Waymo. After all, Waymo has a small fleet of minivans and is just starting up in one city at first. By comparison, Uber dominates the ride-hailing industry, while Lyft is a distant second, though quickly adding customers around the country.

Second Measure, which tracks the ride-hailing industry by analyzing credit card data, estimates Uber has a 70 percent share of the U.S. market, while Lyft has 25 percent and other smaller services make up the remaining 5 percent.

Still, Waymo's corporate parent, Alphabet, has deep pockets and a strategy designed to leverage eight years of developing self-driving cars. While other tech firms, many automakers, some auto suppliers, as well as Uber and Lyft are also developing self-driving vehicles, Waymo is considered to be ahead of others when it comes to taking the driver out of car and having it operate safely on public roads. . .

Watch: Behind the scenes at Waymo

Behind the scenes at Waymo's top-secret testing site from CNBC.