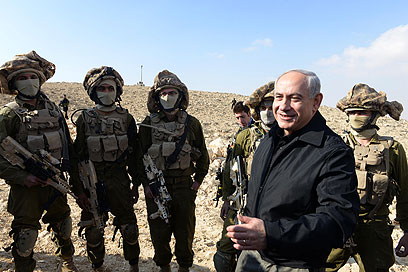 PM Netanyahu congratulates soldiers patrolling border fence
From the Israeli magazine Y-Net News, January 13, 2013:
Israeli women soldiers have 'right stuff' for border watch
'We make a real contribution to protecting the country,' says commander of all-female spotter unit on Israel's fenced-off border with Egypt. Retired general claims women better suited for patient vigilance required of surveillance
Reuters

Breaking cover from a lookout point disguised as a dune, four soldiers storm into the open, ploughing through the sand with rifles aloft. Their battle cries are like seagull calls, and from under their helmets, ponytails flap.

Team Mor is a spotter unit on Israel's fenced-off border with Egypt, deployed at night to intercept would-be infiltrators from the lawless Sinai desert. Like dozens of others along the tense divide, it is all-female.

"We make a real contribution to protecting the country," team commander Lieutenant Mor Dafna said during training drills at Sayarim field intelligence headquarters, marching distance from the frontier.

Any trespass in the Sinai would outrage Egyptians, many of whom resent having signed a peace treaty with Israel that largely demilitarized the peninsula in 1979. That makes spotting Islamist terrorists or illegal African migrants well before they reach the razor-wire border fence a strategic priority for Israel.

While the Israeli conscript military's gender egalitarianism is well known, when it comes to keeping the peace with Egypt over the border, women are valued perhaps even more than their male counterparts.

"It is no accident that so many women are in field intelligence - with all due respect to the men, women bring a special capability," said Major Oshrat Bachar, the chief of operations for Sayarim.

She would not elaborate, but retired brigadier-general Ruth Yaron, a former chief Israeli military spokesperson, voiced her opinion that at draft age, women tended to be better suited for the patient vigilance required of surveillance.

"This is a role that multi-tasks between discipline, pro-activeness and long-term focus, attributes that are often less developed among 18- or 19-year-old male soldiers," Yaron said.

The numbers suggest Yaron and Bachar are not alone in their thinking. Women make up 55% of Israel's field intelligence corps, compared to just 33% of the armed forces overall.

Uniquely for Israel's combat units, which are 96% male, the field intelligence corps has an all-woman infantry surveillance company - around 70 troops, including Team Mor - whose members sign up for an extra year of service in addition to the compulsory two.

Thousands of female sentinels monitor Israel's frontier video-feeds around the clock from hi-tech bunkers. Outside Gaza, some of the screens feature crosshairs linked to heavy machine-guns, allowing the women to remote-fire at Palestinian raiders.

David Tzur, a former general who runs the Israel Intelligence Heritage and Commemoration Centre, said the remote system, known as "Ro'ah-Yorah" or "Sees-Shoots", takes the feminine form in Hebrew in a nod to the gender of its operators.

"The girls were not happy with the original masculine naming," said Tzur.

... "Women remain the minority in our armed forces, because there is not the conscription that sees so many women joining up in Israel," he said.

But he added:

"In my experience, while men tend to be physically stronger, women often tend to be more systematic, thorough and have a greater attention to detail at that age, which is obviously better for intelligence collection and analysis."