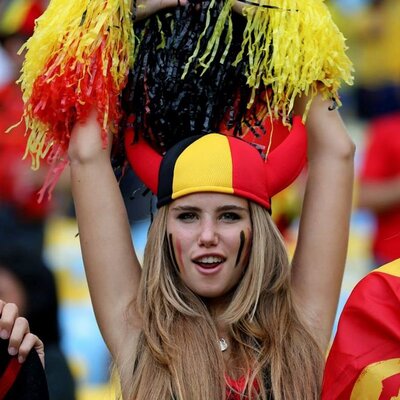 Poor Axelle Despiegelaere, the teenager who won and then lost a modelling contract after pictures of her supporting Belgium and then of her hunting went viral, is not the World Cup's only interesting fan. (Germany meets Argentina in the final of the quadrennial international soccer competition being held in Brazil on Sunday, July 13th.) There are also the Mexicans—who aren't always from Mexico.
Did you know that the word "fan" (as in sports fan) derives from "fanatic"? In Spanish, they're the same word (fanático). Appropriate, don't you think?
Traditionally, most Americans have enough of our traditional sports to follow without caring much about soccer. Indeed, American interest in this year's tournament has been denounced, and celebrated, as evidence of immigration-driven degeneration.
After moving to Mexico in 1991, I became familiar with the whole soccer phenomenon, which involves much more than the sport itself. In fact, the fans are often more entertaining.
The World Cup is the only time I actually watch soccer. My favorite part is the beginning, when both teams stand out on the field, the national anthems are played, and the camera pans the players' faces.
Mexicans are crazy about soccer. They have their own Mexican League and they root for the national team—nicknamed El Tri.
Mexico, however, has never won, nor even come close to winning, the World Cup. Yet every four years, hope springs eternal in the Mexican soul.
This year, Team Mexico did relatively well, but was eliminated by Holland in a game with a questionable call. So, for the next four years, Mexican soccer fans can complain about being robbed. Of course, they might have lost in the end anyway, but still…
I write this article from Mexico. The other day. I was in a store and saw the World Cup paraphernalia on sale at discount prices. Time to move on.
Also this year, Mexican fans in Brazil got into trouble and were "under investigation" for "homophobia", after chanting a term construed as "homophobic."
Well, you don't expect soccer fans to exhibit the same behavior as opera aficionados. But FIFA, the body that governs international soccer matches, was very concerned. It sees itself as much more significant than just a sports federation:
FIFA President Sepp Blatter and Brazil President Dilma Rousseff have pledged to use the World Cup as a platform to fight racism and discrimination.

Mexico coach defends gay slur chant by fans at the World Cup saying the cheer is 'not that bad', ASSOCIATED PRESS, June 20, 2014
And who defines "racism" and "discrimination"? I guess that would be the FIFA folks—and whoever they are being influenced by.
The charges against Mexican fans were dropped. But more of this can be expected in the future.
One thing is for sure—the World Cup does celebrate nationalism. It's true that some players have rather tenuous connections to the countries they represent. Nevertheless, they are playing for national teams.
The fans travel thousands of miles to cheer on their national teams. They're not cheering for the UN or the European Union. They are cheering for their countries.
And look at how many of them dress. They wear bright colors which belong to their nations' flags. They wear outrageous—get ready for this—stereotypical costumes.
Thus in the Anglosphere, universities have decreed that sombreros are Politically Incorrect: University bans sombreros as 'racist' costume, By Claire Carter, Telegraph (UK), November 5, 2013. Yet look at photos of Mexican soccer fans—they unashamedly sport enormous stereotypical sombreros.
The Trejo family from Los Angeles poses outside of the Arena Castelao before the group A World Cup soccer match between Brazil and Mexico in Fortaleza, Brazil, Tuesday, June 17, 2014.
The Mainstream Media has trumpeted the fact that so many Americans bought tickets to the World Cup and thus the U.S. is becoming a "soccer nation:'
The U.S. bought more tickets for the World Cup than any country besides the host, with FIFA estimating there are 200,000 Americans here in Brazil. [Sunday is another watershed moment for U.S. Soccer, By Nancy Armour, USA TODAY, June 21, 2014]
But which team were these "Americans" rooting for?
Fox News Latino explained in a headline— Mexico Fans at World Cup Prove Surprising In Many Ways (Like They're Not From Mexico) (June 19, 2014):
The number of fans cheering Mexico at the World Cup has taken observers in Brazil by surprise. But talk to those waving the green, white and red, and it becomes clear that when the tournament ends, many will return home not to Mexico, but to the United States. It's unknown how many of the 200,000 World Cup tickets sold to people in the U.S. were bought by fans of the Mexican squad. The number, however, certainly has boosted the 34,000 who purchased tickets from Mexico itself, according to sales figures released by international soccer's governing body, FIFA.
Fox News Latino reports that, in Mexico's first World Cup game, against Cameroon, "the Mexican Soccer Federation expected about 15,000 fans" to cheer for Mexico, but "local media speculated there were at least twice that number". So that suggests half the Mexican fans at the Cameroon game had flown there from the U.S. and not Mexico.
And there's more:
Many of the soccer fans traveling from the U.S. are part of the last great wave of Mexican migration to the United States, which spanned the 1990s to the mid-2000s. Others are second-generation Mexicans who grew up rooting for the Mexican team at a time when Team USA was still unknown.
My emphasis. So it's not just Mexican citizens residing in the U.S., but U.S.-born Mexican-Americans plunking down thousands of dollars to fly to Brazil to root for Mexico.
Francisco Trejo, who traveled to Brazil with his two sons from Los Angeles—still officially part of the U.S.— is quoted:
"As with us, there are many more friends and acquaintances here who have (U.S.) nationality, but the truth is we came to support Mexico completely."
Support Mexico completely. Got it.
But University of Nebraska prof. Daniel Hawkins, [Email him] who studies sports sociology, is quoted saying there is nothing to worry about:
Mexican-Americans love the U.S. They would cheer for them, but they have this loyalty to Mexico. It's a cultural thing of identifying with your home culture in addition to being American.
Yeah, yeah. But Fox Latino also quotes Marcos Mijares, resident of Atlanta, Georgia (still officially part of the U.S.): "For us, to root for Mexico is like eating tortillas. You've got to do it."
Fox Latino even reports a Mexican soccer team fan club based in Dallas, Texas (still officially part of the U.S.): "Pancho Villa's Army", named after the Mexican revolutionary who massacred Americans in Mexico and raided an American town.
Yeah, that Pancho Villa. See the group's Facebook page here and website here. Pancho Villa's Army aims "to unite Mexican Soccer fans north of the border and help El Tri feel like they are always the home team." (El Tri is the Mexican national team, remember). It lists five objectives on its website—and they don't all have to do with soccer:
To support El Tri in all competitions by attending games with Villa's Army and by organizing local chapters of Villa's Army in cities across the United States and the World.
To show the entire world that the Mexican National Team has the best and most respectful fans in the world.
To support Hispanic youth soccer in the United States and in Mexico.
To support Hispanic education in the United States and in Mexico.
To promote our Mexican culture and pass it down to the next generation through our love for the Mexican National Team.
Nothing to worry about?
And while Mexican fans (from whatever country) were whooping it up in Brazil, back in California, they whooped it up it up over a victory over Croatia so much that even the LA Times had to report that
Crowds of soccer fans celebrating Mexico's World Cup win poured onto the streets in the Pacoima area, forcing authorities to shut down offramps and onramps on the 5 Freeway and declare a citywide police alert.

Mexico World Cup fans force ramp shutdowns on 5 Freeway in Pacoima, By Robert Lopez, June 24, 2014
Now if the Mexican immigrant population were small, having a few foreigners rooting for a foreign team in a respectful manner might not be a big deal.
But we're talking about millions of Mexican immigrants, illegal and legal, and millions of U.S.-born descendants, encouraged by our academic/MSM/government complex to think of themselves as a separate people.
Why wouldn't they root for a separate team?
Consider the horrible conduct exhibited by U.S-born Mexican-Americans at U.S. vs. Mexico soccer matches on U.S. soil. [Moral Of That U.S.-Mexico Soccer Game: Say Goodbye to Los Angeles, By Patrick J. Buchanan, June 27, 2011]
It's not really about soccer. Who cares who wins a soccer game? It's about the fate of the historic American nation.
As a kickoff, we need an immigration shutdown—of illegal and legal immigration—RIGHT NOW.
That's the game Americans need to be playing.
American citizen Allan Wall (email him) moved back to the U.S.A. in 2008 after many years residing in Mexico. Allan's wife is Mexican, and their two sons are bilingual. In 2005, Allan served a tour of duty in Iraq with the Texas Army National Guard. His VDARE.COM articles are archived here; his Mexidata.info articles are archived here ; his News With Views columns are archived here; and his website is here.