The race is on among tech and automotive companies building self-driving vehicles to get their creations on the road. In Asia, a boxy little bus unit has been successfully transporting people around on the National Taiwan University campus since May.The bus putters along at six miles per hour with a dozen passengers, which developers think is a good start, and Taipei hopes to have autonomous public transportation running in the city within a year.Not to worry that the US isn't getting in on the automation action — in March I reported on a
similar sort of shuttle bus being tested near San Francisco
. And Washington is helping on the legislative front: in September, the
House passed a bill to speed
the introduction of self-driving vehicles, and the Senate held a friendly
hearing examining the special issues of self-driving trucks
. However, there was little discussion about the job loss that will arrive with autonomous vehicles, although the testimony of one trucking professional noted that
3.5 million Americans employed as commercial drivers
.
Driving is a top job in many states.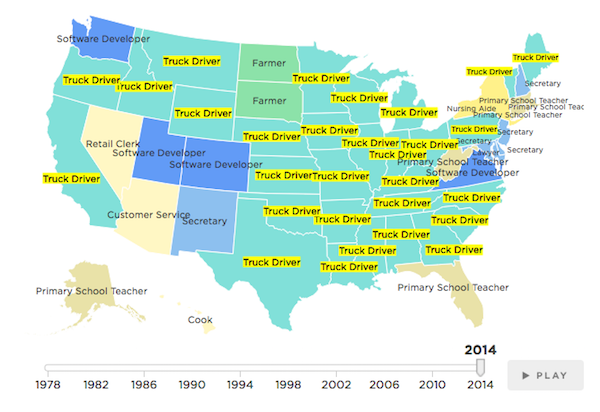 Technology experts have warned that the automated future will include massive job loss — why isn't that a concern of the nation's legislators? Oxford researchers forecast in 2013 that
nearly half of American jobs were vulnerable
to machine or software replacement within 20 years. Rice University computer scientist
Moshe Vardi believes that in 30 years
humans will become largely obsolete, and world joblessness will reach 50 percent. The Gartner tech advising company believes that
one-third of jobs will be done by machines by 2025
. The consultancy firm PwC published a report earlier this year that
forecast robots could take 38 percent of US jobs by 2030
. Forrester Research Inc. has a more optimistic view, that there will be a
net job loss of 7 percent by 2025
from automation.One thing is certain: the automated future means that America doesn't need to import any immigrant workers at all. In fact:
Automation Makes Immigration Obsolete.
The
New York Times
recently took notice of the self-driving buses in Asia:
In Taiwan, Modest Test of Driverless Bus May Hint at Big Things to Come, New York Times, September 28, 2017TAIPEI, Taiwan — Rolling with a barely audible hum beneath banyan trees, a brightly painted shuttle bus cruised through a university campus here.The electric vehicle crawled along at a speed of no more than six miles per hour. And only 12 passengers could fit inside. But the bus also drove itself, raising hopes in Taipei that autonomous public transportation would be up and running here within a year."The idea of one day being able to ride around this city in driverless vehicles is quite exciting," said Amber Chen, who was riding with her son Ruey-She, 8.The bus tests are partly to prove that the autonomous-driving technology is safe to deploy on the city's busy streets, and partly to gather the data needed to improve the artificial intelligence that steer such vehicles. The effort, one of the earliest in Asia, could help position Taiwan as both a pioneer in autonomous public transportation and, if things go according to plan, a producer of driverless buses.So far, the bus being tested, the EZ10, has breezed through its trials on the campus of National Taiwan University, which have been in progress since May.But successful testing on a closed course at low speeds can only reveal so much about how the buses would fare in traffic. Getting them on the road at busy times is the next step, and the program's backers are eager to see that happen quickly.(Continues)