I'm willing to bet every one of these 16 shootings at high school football games across the United States of America in 2023 has involved a black shooter (remember, in 2015, the Brookings Institute published the definitive survey on race and gun crime in America, Guns and race: The different worlds of black and white Americans [by Richard V. Reeves and Sarah E. Holmes, December 15, 2015]). Actually, it should be a bet made available on FanDuel or DraftKings: How many shootings will there be this weekend at high-school football games?
Friday night lights under fire: High school football games are being blitzed by gun violence: "It's definitely the worst I can remember in 35 years as a teacher, coach, leader in sports," said Karissa Niehoff of the National Federation of State High School Associations., by David K. Li and Corky Siemaszko, NBC News, September 16, 2023

Gun violence is threatening to dim Friday night lights and endangering a beloved national pastime—high school football games.

This season alone, there have already been at least 16 shootings, resulting in two deaths and 13 people wounded at games across the country, according to the K-12 School Shooting Database, which has been tracking this data since the school shooting in Parkland, Florida, in 2018.

There have been two additional incidents at high school football fields this season: one where a crowd began a stampede after someone flashed a gun [at a Booker T. Washington game in Tulsa], and one where gunfire ended a Pop Warner game [at a high school with 88 percent minority enrollment].

"I would call it an alarming trend," David Riedman, a criminologist and founder of the database, told NBC News. "Right now, it appears we're on pace with last year when there was at least one shooting at a football game each week on the season."

Karissa Niehoff, executive director of the National Federation of State High School Associations, agreed.

"It's been sad to watch," she said. "Horrific. It's definitely the worst I can remember in 35 years as a teacher, coach, leader in sports."

Niehoff said that when her association meets with local sports administrators about boosting security at big games, football in particular, this kind of violence is the "elephant in the room." She said she's grateful that, so far, none of these shootings have turned into mass casualty events.

"We're just praying that we never have to talk about something like that," she said.

Last year, two Texas teenagers in a Dallas suburb who had allegedly been plotting to carry out a mass shooting at an Everman High School football game were intercepted by police before they got to the school, according to published reports. Police found an AR pistol and a 60-round magazine in their car.
Pictured below: "Two Texas teenagers"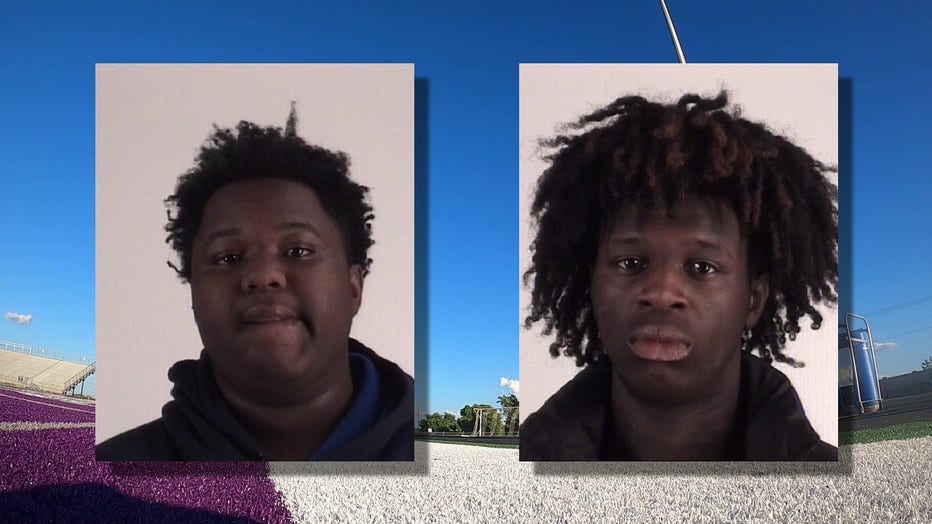 Riedman, who for statistical simplicity defines a high school football season as running from August through November, said violence at the games is not limited to southern and midwestern states where gun laws tend to be lax.

"This happens all over the country," he said. "Recently there were two students who were shot leaving a game in Chicago."

And, so far, the violence appears to be following a predictable pattern, Riedman said.

"It's almost always a dispute that escalates into violence because somebody has a gun," he said. "What has not happened yet is a planned attack on a high school football game."

What, besides guns, do all these incidents have in common?
Minority gunmen? No, it's
Insufficient security, Riedman said.

"The fundamental problem is security," he said. "It's often unclear who is responsible for security at high school football games. Most schools have never done a training session at a stadium."
Just think if school choice were passed nationwide: black violence largely contained to all-black schools, thanks to white flight suburbs, would be redistributed to predominately white communities and the uniquely black phenomenon of shootings at football games between all-black schools would no longer confined to places white people only visit when it's a white college football head coach/white assistant on a recruiting trip…
Friday Night Lights are only under fire because individual black people attending heavily black high school football games decide to open fire on other black people, forcing the cancellation of games and a "crisis" uniquely black in origin.