How much would The Simpsons' house at 742 Evergreen Terrace—a 2-story, 4-bedroom house, with an attached 2-car garage, basement, and a backyard big enough to have a treehouse, in a school district that appears to have 85% white students—sell for in 2019?
As a promotional stunt, a replica of The Simpsons' house was built in a new Las Vegas suburb in 1997.
It was said to be 2200 square feet (presumably not counting any basement) and to be worth $120,000 in 1997.
But it appears to be considerably tighter in dimensions than the cartoon house, which is rather generously proportioned. The cartoon house is much wider, with the garage set to the right of the main house rather than embedded in it like in the Vegas replica.
Evergreen Terrace is a reference to Evergreen State, the public hippy college in Olympia, WA that Matt Groening attended, which has lately been in the news over its Great Awokening meltdown.
Olympia is the state capital. It has only 50,000 people, but to Kurt Cobain, it was Bright Lights, Big City compared to his home town of Aberdeen, WA.
Springfield in the TV show appears to be a medium-sized city. It has a minor league baseball team, the Isotopes, which Albuquerque named their Triple AAA team after in 2002.
Looking at Zillow for Olympia, houses in the 2500 to 3000 sf size range from $325k to $779k.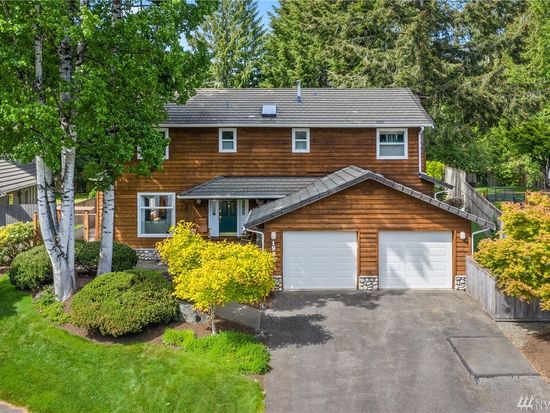 Here's a 2755 sf house on a 10,500 sf lot in Olympia.
It looks pretty comparable to The Simpsons house, or maybe a little smaller, like the Las Vegas replica house.
It recently sold for $500k.
Could Homer Simpson afford this house in 2019 on one salary?