There's an interesting anti-illegal-alien ad on television that I happened to see the other day: in it a bereaved mom describes the loss of her daughter when a drunk-driving illegal alien struck and killed her, and then he was released from jail despite his crime and status.
The appalling case was reported here in April 2016: Drunk Driving Illegal Alien Kills Woman, Is Bailed Out and Disappears.
Below, illegal alien Edwin Mejia (left) killed Sarah Root (right), yet was allowed to post bond from jail and escape.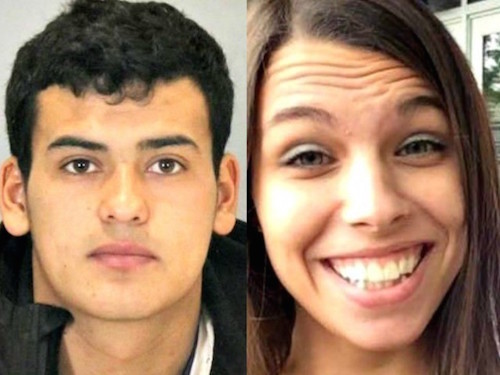 The organization America First Policies produced the video; its Youtube page is here.
Here's a report on the video from The Hill:
Pro-Trump group to debut latest ad in $1M push for border wall, The Hill, November 23, 2018

A political nonprofit aiming to boost President Trump's policies is set to debut a new ad on Monday calling on lawmakers to fund his long-promised wall along the U.S. southern border.

The $500,000 ad buy is the second from America First Policies this month, seeking to put pressure on Congress to get behind the border wall project. Together, the ads have cost the group $1 million so far.

The latest spot features Michelle Root, whose daughter was killed in 2016 in a car crash allegedly caused by an immigrant in the country without legal status. In the ad, Root suggests that building the border wall would prevent future tragedies, while alluding to the administration's controversial former policy of separating migrant families at the border.

"My separation is permanent," she says in the 30-second spot. "I want to see that wall built. I want to see stronger immigration laws. Make your voice heard. Call your congressman and your senators."

The ad comes nearly three weeks after Democrats recaptured the House in the midterm elections, giving them a majority in the chamber for at least the next two years.

The party needed to gain at least 23 seats to recapture control of the House. So far, Democrats have picked up 38 seats.

The ad from America First Policies also comes as a deadline for lawmakers to fund the government is just two weeks away.

Trump wants Congress to approve at least $5 billion in funding for his border wall, while Senate Democrats have said that they will offer no more than $1.6 billion. (Continues)