A version of this post appeared here on November 11, 2019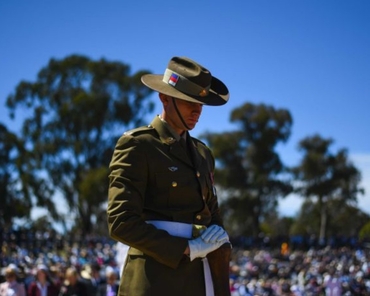 November 11, the anniversary of the World War I Armistice, originally called Armistice Day, is called Veterans Day in America, but is celebrated as Remembrance Day in Canada, England, Australia, and other Anglosphere countries. It's more like Memorial Day in America, in that it's dedicated to the honored dead, rather than living veterans.
Writing about Memorial Day, a few years ago, I wrote that VDARE's overseas Anglospheric readers celebrate Remembrance Day on November 11 (Armistice Day in the US) in honor of a soul-destroying, seemingly pointless slaughter that destroyed the old order between 1914 and 1918.
But by 1914, the United States had already been memorializing its own soul-destroying, seemingly pointless slaughter for fifty years.
In both cases, the participants thought they were achieving something, but the end, they hadn't. World War I didn't prevent World War II, and the Civil War ended in (a) Reconstruction and (b) the failure of Reconstruction.
John Derbyshire's father was a veteran of First World War, and received the medal pictured at right, which says "The Great War For Civilization."
Mark Steyn has a column, reprinted from 2002, on the significance of the whole thing.
On CNN the other day, Larry King asked Tony Blair what it was he had in his buttonhole. It was a poppy — not a real poppy, but a stylized, mass-produced thing of red paper and green plastic that, as the Prime Minister explained, is worn in Britain and other Commonwealth countries in the days before November 11th. They're sold in the street by aged members of the Royal British Legion to commemorate that moment 83 years ago today, when on the eleventh hour of the eleventh day of the eleventh month the guns fell silent on the battlefields of Europe.

The poppy is an indelible image of that "war to end all wars," summoned up by a Canadian, Lieutenant-Colonel John McCrae, in a poem written in the trenches in May 1915:

In Flanders fields the poppies blow
Between the crosses, row on row,
That mark our place; and in the sky
The larks, still bravely singing, fly
Scarce heard amid the guns below.

Row on row on row. And, in between, thousands of poppies, for they bloom in uprooted soil. Sacrifice on the scale McCrae witnessed is all but unimaginable in the west today...[More]
See also Steyn's The War That Made the World We Live In.
A Remembrance Day ceremony is an implicitly white event. There were contingents of non-white troops on both sides of World War I, but it was white people fighting white people that made the war.