One of the funnier things in movies is how actors who have zero interest in science-fiction get typecast into sci-fi roles: e.g., Sigourney Weaver, Jeff Goldblum,
John Lithgow
, etc. (Conversely, are there any actors who would have liked sci-fi roles but didn't get them? Maybe Alan Alda?)
Goldblum, for example, has devoted countless hours of his life to working out in the gym and to playing the piano, but he became a success in sci-fi movies. Weaver is a terrific comedienne on stage, but has seldom gotten much of a chance to show that talent off on screen.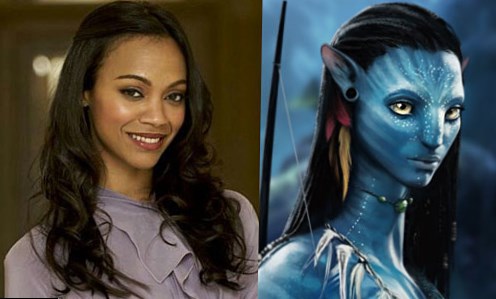 One of the latest sci-fi lifers is Zoe Saldana.
My recollection is that years ago James Cameron signed her to play a robot in a movie he never made. Eventually, he called her up and said I've got bad news and good news. I'm not making your robot movie. But instead of casting you as a robot, I'm casting you as a princess in a movie I'm going to call Avatar.
Zoe, a girly girl, exclaimed that she'd always wanted to play a princess since she was a little girl.
Then Cameron said: You're going to be a ten-foot tall blue alien princess!
History does not record her response, but she was fine in the role. Since then she's been Lt. Uhuru in Star Trek and something or other in Guardians of the Galaxy.
Because it's painful to ask actors who have accidentally become sci-fi movie stars to explain why anybody would want to see their latest sci-fi movie ("Damned if I know" would be the most honest answer), the NYT interview with Zoe turns out to be all about … Diversity.
Yet, movie actresses like Saldana tend to be super girly and thus make poor feminist ideologues. They got into acting because they like maximum attention paid to how pretty they are.
And black actresses tend not to be all that black.
But the good ones can memorize the required lines.
Zoe Saldana, Sci-fi Queen, on the 'Guardians' Sequel By KATHRYN SHATTUCK MAY 4, 2017

As a young actress, Zoe Saldana didn't imagine being painted green, or blue. But, she said, playing sci-fi characters the hue of bright Crayolas helped her avoid being trapped in a box — or the pain of being rejected for roles because of her skin color.

"Rather than dealing with that heartache, I did rely spiritually and artistically on the freedom that these science-fiction roles gave me with their different colors of skin," she said. "And it challenges me as an artist putting voices to those roles of females that are more action driven and diverse in a way that defies gravity."

In "Guardians of the Galaxy Vol. 2," Ms. Saldana flies high again as Gamora, Marvel's mean, green killing machine and a major player in the galactic team of heroes led by Peter Quill (Chris Pratt). Her biggest enemy this time is her sister, Nebula (Karen Gillan), who has vowed to fight Gamora to the death. Chances are she'll survive: Ms. Saldana will reprise the role in "Avengers: Infinity War," as well as return as the cerulean-splashed Neytiri in three "Avatar" sequels.
I can see Zoe's eyes-glazing over as she reads this list of movies she's gotten herself into.
The forthright Ms. Saldana, 38 — born in New Jersey and reared in Queens and in the Dominican Republic — now nests in Los Angeles with her artist husband, Marco Perego, and their three young sons. …
Movie star actresses tend to have more children than you'd expect considering how short the peak of their careers are and how their prime child-bearing years conflict precisely with their prime stardom years.
Q. People are saying that the sparring between you and Nebula passes the Bechdel test, as you talk about something other than a man. What's it like generating that much girl power?

A. It feels wonderful. It feels like that's the way films should be, with more of a female presence. Give them a story, give them their own arc. And it felt great to balance off of a woman and play a sister. I'm one of three sisters, and that's a topic I feel strongly about. …

Q. You took flak for portraying [singer Nina] Simone in the biopic "Nina."
Because Saldana is whiter and prettier than Simone was.
A. There was a lesson learned there. …

Q. What did studying ballet bring to your life?

A. I think I would have never booked "Avatar" if it weren't for my ballet background. …
The interview wraps up with a remarkable question that reveals much about how bizarre the conventional wisdom has gotten recently:
Q. You have so many influential women in your life, and yet you're the mother of boys.

A. Me having only boys is the universe being absolutely ironic, and I'm accepting the challenge with much love and humility. The biggest enigma is that after so many women, it's now all about men — seeing them at a very tender age, learning about their biology, understanding who they are and why they are such precious creatures.
Who could have imagined that heterosexuality would often work that way? It's almost as if the two sexes aren't really each other's enemies.