As Rodney King asked in 1992, "Can we all get along?" Aren't there enough cishet white men to hate in this world to keep the Coalition of the Fringes from tearing itself apart?
Apparently not. The SJW world is today clawing at itself over the burning issue of steatopygia.
From the New York Times:
Nicki Minaj: Black Women 'Rarely Rewarded' for Pop Culture Contributions By KATIE ROGERS JULY 22, 2015

The rapper Nicki Minaj reacted on Tuesday to not being nominated for MTV's coveted Video of the Year award by saying that the cultural contributions of black women are often overlooked, raising the specter of racism in the music industry, and setting off a Twitter debate that drew thousands of people — including Taylor Swift. …

[Minaj's] jungled-themed "Anaconda" video featured curvy women dancing and gyrating in a series of flesh-baring outfits. The video, which samples heavily from Sir Mix-a-Lot's "Baby Got Back" put women front-and-center rather than behind a male rapper. It was an instant hit online.

The single's cover art, which featured Ms. Minaj crouching in a thong, was also a hit, and turned the image into a commodity.
And yet Minaj's "Anaconda" wasn't nominated, while Taylor Swift's "Bad Blood" was.
The video for Ms. Swift's "Bad Blood," a collaboration with the rapper Kendrick Lamar, features the actresses Lena Dunham, Mariska Hargitay and Selena Gomez. It also showcases a bevy of white models

[Pictured above]

whose bodies are considered the standard for beauty in the fashion and lingerie industry: Karlie Kloss, Lily Aldridge, Martha Hunt and Gigi Hadid. The video features a lot less twerking and only slightly more clothing than "Anaconda." …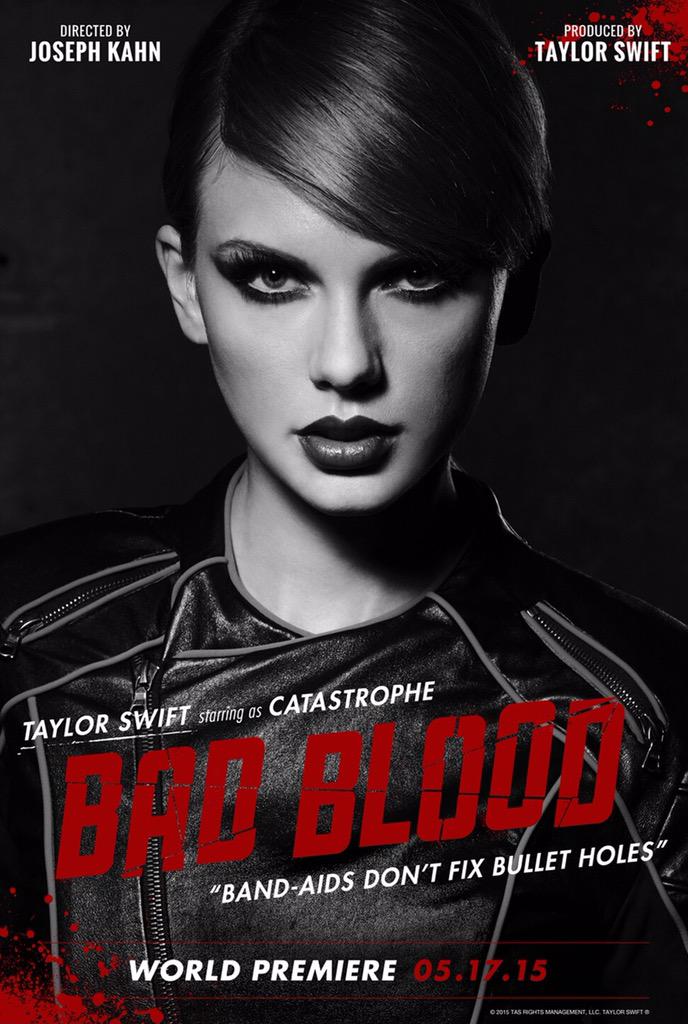 The skinny blonde Taylor Swift jumped in to try to blame men for hogging all the nominations, but that ploy didn't go over well with the Twitter mob.
The exchange was quickly seen by the media as a feud, and fans of Ms. Minaj got involved to comment on the broader issue of race in music and to critique Ms. Swift's response as being indicative of a brand of feminism dominated by white women.
By the way, both Miss Minaj and Miss Swift are savvy businesswomen, so this isn't morons being moronic; this is clever people following out the dominant logic of the age. Which is, of course, moronic.
Lex at WWTDD explained:
If you start with the premise that the MTV Video Music Awards are as prestigious as medals handed to the fat kid who couldn't finish the hundred, all arguments over who or who should not be nominated or awarded are necessarily pointless and inane. Nicki Minaj was nominated for two VMAs this year, but not for the Music Video of the Year Award for some music video somebody not her made. She took her anger out on Twitter, the central warehouse for misdirected rage since 2009. She seemed to indicate that girls with fat asses were being excluded. To which Taylor Swift who was nominated and has an ass like your grandma in summer khakis fired back something stupid about girl power. Minaj clarified that her snub was an indication of blacks being kept down in popular music in 2015. I could spend three seconds digging up stats to prove otherwise, but when in the midst of a dummy fight, don't be the tool who produces facts.
Meanwhile,
Marginal Revolution
calls attention to Taylor Swift also being in trouble with the Chinese.
It's like a J.P. Rushton fever dream.