This is partly speculation, and I will be glad of facts to confirm or deny it. It's the kind of fact that the MSM specializes in not reporting.
We know from photographs that the DC Navy Yard shooter was an African-American.(Born in Queens, NY.)The MSM hasn't told us this, hasn't commented on it, but they've shown the picture.
This seems to take him out of the Immigrant Mass Murder Syndrome category, and into the "black spree killer" category.
Some people have wondered if he was a regular African-American, like Richard Pryor, or the child of recent immigrants from Haiti or Africa.
Aaron Alexis does not sound like a regular African-American name, somehow. Looking at pictures of Alexis, one might think that he came from Africa or Haiti.
Alexis is a common French name, and aside from Haiti, there are a whole bunch of French speaking African countries, like the former French Congo and the former Belgian Congo, (which keep changing their names, so that's how I still think of them.)
However, Aaron Alexis has, according to news reports, a father named Anthony, a mother named Sarah, an aunt called Helen Weeks, and a brother-in-law called Anthony Little. These are not French names, they're regular American names, so you would conclude not an immigrant family, no?
Not so fast! African-Americans no longer call themselves regular American names, from Anglo-Saxon and biblical sources. They call themselves and their children Trayvon and Tawana, and Shaniqa, and similar peculiar things.
What kind of people (who are black and in Brooklyn) call themselves Aaron, Anthony, Sarah, and Helen?
The same kind of people who call themselves "Eric"–Barbadians or Bajans–Eric Holder's people.
The Brooklyn Eagle says that the family lives on Putnam Avenue in Bedford-Stuyvesant. [FBI investigating DC Navy Yard shooter's Brooklyn connection] Bedford-Stuyvesant has been West Indian, especially Barbadian territory for many, many years
Bedford-Stuyvesant, the nation's second most populous black community, is home to the nation's largest concentration of voluntary black immigrants–the West Indians. [Neighborhoods: West Indies Flavor Bedford-Stuyvesant, By C. GERALD FRASER, NYT, October 28, 1970]
Putnam Avenue is the site of St. Leonard's Church, a Barbadian congregation started 75 years ago, and Bev's Bajan Corner, a grocery store selling Barbadian food. Here's a picture from the neighborhood: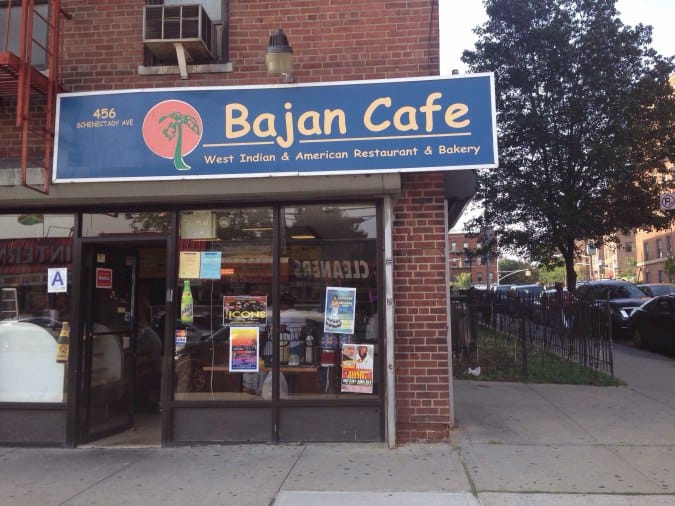 That's enough to call it a Barbadian neighborhood, and to guess that anyone who lives there is part of the Barbadian community, as Eric Holder is.
"I feel that I grew up partly in Barbados and partly in New York," said[Eric] Holder, who was born in New York and was raised in what was essentially a West Indian enclave in Queens where Bajans, Jamaicans, St Lucians, Trinidadians, Guyanese and others were among the main homeowners.

Obama getting help from Bajan son, Nation News, Barbados, by TONY BEST, June 08, 2008
See also Proud Mum: He will be a great AG, Stabroek News, (Guyana) November, 22, 2008, and this post by Steve Sailer, which quotes some of the Stabroek News story.