As the 100th anniversary of Hollywood's first blockbuster classic film, The Birth of a Nation, awkwardly approaches on March 3, it's fascinating to reflect upon how much attitudes have changed in the South toward the threat of black men raping white women. A couple of decades ago, Tom Wolfe dreamed up a plot for A Man in Full about how the white coed daughter of Georgia Tech's biggest donor charges the school's black Heisman Trophy-winning star with rape. It must have struck Wolfe as so ironic an epitome of the New South that it would have to stir up controversy, but instead it was immediately forgotten because who wants to think about it? Not politically correct liberals and not college football-loving conservatives, and that doesn't leave much of an audience.
In this era there's vast media concern over the threat posed by campus rapists like Haven Monahan, but discussions of the prudence of recruiting individuals such as U. of Tennessee star Old Penitentiary Face Johnson (pictured above) and then unleashing them on campuses with thousands of teenage coeds are muted, to say the least.
Here are a couple of stories out out the red state of Tennessee. From CBS today:
How old is this guy? Did he do 5-to-10 before getting his college scholarship?

The Knox County Sheriff's Office issued a release Tuesday announcing that former Tennessee linebacker A.J. Johnson has turned himself into police on a charge of aggravated rape, per the Associated Press.

Johnson has since been released on a $40,000 bond. Johnson and former Volunteers teammate Michael Williams were indicted by a grand jury last week on one aggravated rape charge each. …

Johnson had been scheduled to perform at the 2015 NFL Draft combine before his invitation was rescinded following his indictment. …

Both players were suspended from the team in November after a 19-year-old female Tennessee student alleged to police Johnson and Williams raped her in an off-campus apartment.
Moreover, most top university football programs seem to have informal organizations that recruit pretty coeds who really like football players to squire high school senior stars around campus on their recruiting visits to give them the impression that they are going to have a really good time during their three years on campus before turning pro.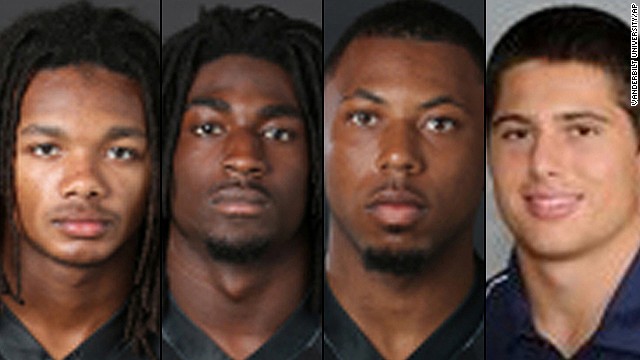 Or consider private Vanderbilt U. (sticker price $62,320 per year), where three black and one white football players have been accused of gang raping a coed, with two convictions so far. From The Tennessean last month:
Rape trial spurs discussion of hostess role on campus Anita Wadhwani and Adam Sparks, The Tennessean 11:03 a.m. CST January 25, 2015

The relationship between female students and male athletes has been at the forefront in the first two weeks of the trial of two former Vanderbilt football players charged with raping an unconscious female student.

Defense attorneys consistently have asked witnesses — current and former students — whether undergraduate Vanderbilt women served as "hostesses" to visiting football recruits. Attorneys have stopped short of linking any such practice directly to the allegations of rape and sexual battery against former football players Brandon Vandenburg and Cory Batey as the trial heads into its third week.

But the longtime practice by some football programs to enlist students to serve as hostesses in recruiting players has come under scrutiny in recent years.

Vanderbilt officials declined to comment on whether there is an official or unofficial hostess program on campus…

But months ago, the alleged victim in the case told police that former Vanderbilt football coach James Franklin had called her in for a private meeting, saying he wanted her to get "15 pretty girls" together to form a team to assist with recruiting — something he told her all colleges did, according to court filings.

And in court last week, sophomore football player DeAndre Woods took the stand and acknowledged he'd been paired with one such woman, whom defense attorneys called a "hostess," while being recruited at Vanderbilt.

Often selected for their attractiveness and outgoing personalities to squire around football hopefuls, undergraduate women have served formally or informally as hostesses during on-campus recruiting at some colleges since the 1960s. Their roles have included keeping recruits company at meals and games, decorating their hotel rooms and giving campus tours.

In 2001, a University of Colorado hostess said she was raped by football players and recruits at a party she hosted and that university officials encouraged the use of alcohol and sex to lure recruits. In 2003, the "Sun Devilettes" all-female hostess program at Arizona State University was accused of offering underage recruits drinks, taking them to parties and, in some instances, having sex with them.

In 2004, prompted by these and other scandals involving female hostesses, the NCAA issued recruiting guidelines, including the elimination of gender-specific hostess group names and a requirement that tours for football recruits be similar to any other prospective student.

In 2011, the NCAA penalized the University of Tennessee with a two-year probation for multiple violations, including the improper use of "Orange Pride" hostesses in recruiting. …

The University of Florida's "Gator Getters," the University of Miami's "Hurricane Honeys," North Carolina State's "Stately Ladies," and the "Bengal Babes" at Clemson University have all since disbanded — in some cases adopting more gender-neutral names and expanding to include male students.

But sports insiders say the practice of using female students to accompany athletes on recruiting trips persists at many schools in formal or informal ways.

… But he added that Vanderbilt did not use a hostess program on his visit there that same year.

Fletcher Long, attorney for Vandenburg, honed in on the issue of whether women helped on recruiting visits.

At Vanderbilt, witnesses at the trial testified there was no formal hostess program but described female students assisting in recruiting football players.

Witness Julianna Martell, a student who was with the victim at a bar on the night of the alleged assault, testified that she helped recruiting over one summer….

Under the Franklin, who served as Vanderbilt's football coach during the time of the June 2013 alleged incident, sportswriter Jesse Johnson said he often saw a host of attractive women in the football office.

"There were always attractive girls around, but it never looked like it was constructed in a real organized way like a hostess program, and it never seemed risque," said Johnson, who has covered Vanderbilt recruiting for the past 11 years for Scout, Rivals and, currently, for 247 Sports.

Katherine Walden, a 2014 Vanderbilt graduate, said she was a suitemate of three Commodores cheerleaders in 2011-12 — two females and one male — who assisted in recruiting. She said she did not know if there was an official hostess program at Vanderbilt, but she did not approve of the use of female students to attract male athletes to the school.

"It's very offensive, particularly with a place like Vanderbilt in the SEC," Walden said. "If you look back at the history of the South and gender roles and all that, even the notion that there could be any type of hostess program, even under a different name, is pretty troubling. The fact that we would take these incredibly smart young women and reduce them to something similar to hostesses is troubling. Not that it's necessarily always a bad thing, but that's the impression we are giving of our campus."
So at least we get a feminist attempt at explaining why this might not be such a hot idea.
But has any tuition-paying Republican father publicly expressed concerns about university officials trying to persuade his daughter to play geisha to visiting 18-year-old cornerbacks?