Chechen leader Ramzan Kadyrov and his two best friends: his gold pistol and V. Putin
Reuters
is reporting that the father of Chechen immigrant Ibragim Todashev, slain by an FBI agent yesterday, "is said to be on close terms with regional leader Ramzan Kadyrov."
Ray Sawhill of
Uncouth Reflections
has coined the phrase "Russia: Awesomest Country on Earth" for things like this ultraviolent micro-
action movie
(NSFW). Judging by the Wikipedia page of Chechnya's current leader, "Chechnya: Awesomest Republic in Russia."
Ramzan Kadyrov
RK and Mike Tyson
Ramzan is a son of former Chechen President Akhmad Kadyrov, who was assassinated in May 2004. In February 2007, Kadyrov replaced Alu Alkhanov as President, shortly after he had turned 30, which is the minimum age for the post. He has the support of current Russian President Vladimir Putin and was awarded the Hero of Russia medal, the highest honorary title of Russia.
Kadyrov was engaged in violent power struggles; with Chechen government warlords Sulim Yamadayev and Said-Magomed Kakiev for overall military authority, and with Alu Alkhanov for political authority.
RK and Diego Maradona
As Head of Chechnya, Kadyrov has been credited for bringing peace and stability to the region.[citation needed] On the other hand, he has come under heavy criticism from the international press and Russia, due to alleged corruption and human rights violations.
Kadyrov was born in Tsentoroi, RSFSR, USSR. A reckless and impetuous person at school, Ramzan Kadyrov strove to gain the respect of his father Akhmad Kadyrov, a Muslim imam. He claims that he always emulated his father. Ramzan enjoys boxing and once met with former heavyweight boxing champion Mike Tyson.[3] In the early 1990s, as the Soviet Union splintered into fragments, the Chechens launched a bid for independence. The Kadyrovs joined the struggle against the federal forces, with Ramzan driving a car for his father Akhmad, who became the separatist mufti of Chechnya.[citation needed]

The Kadyrov clan defected to the Moscow side at the beginning of the Second Chechen War in 1999. Since then, Ramzan has led his militia with support from Russia's FSB state security service (including service ID cards) becoming the head of the Chechen Presidential Security Service. The militia later became known as the Kadyrovites.
He was falsely rumoured to have died of a gunshot wound inflicted by his bodyguard on 28 April 2004.[4]

After his father, then President, was assassinated on 9 May 2004, Ramzan was appointed Deputy Prime Minister of the Chechen Republic.
When his sister was detained by the Dagestan police in January 2005, Ramzan and some 150 armed men drove to the Khasavyurt City Police (GOVD) building. According to the city mayor, Kadyrov's men surrounded the GOVD, forcing its duty officers against the wall and assaulted them, after which they left the building with Zulai Kadyrova, "victoriously shooting in the air."[5]
RK and pet
In August 2005, Ramzan declared that "Europe's largest mosque" would be built in place of the demolished ruins of Grozny's shattered downtown.[6] He also claimed that Chechnya is the "most peaceful place in Russia" and in a few years it would also be "the wealthiest and the most peaceful" place in the world. He said that the war was already over with only 150 "bandits" remaining (as opposed to the official figures of 700 to 2,000 rebel fighters), and that thanks to his father, 7,000 separatists had already defected to the Russian side since 1999.
When responding to a question on how he is going to "avenge the murder of his father", Ramzan said: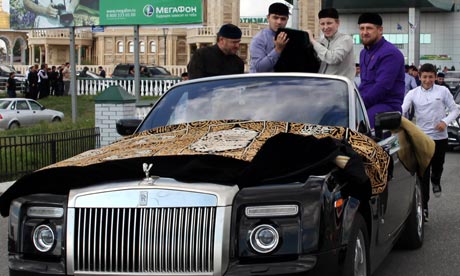 Kadyrov escorting the Prophet's Golden Bowl to Grozny mosque
I've already killed him, whom I ought to kill. And those, who stay behind him, I will be killing them, to the very last of them, until I am myself killed or jailed. I will be killing [them] for as long as I live... Putin is gorgeous. He thinks more about Chechnya than about any other republic [of the Russian Federation]. When my father was murdered, he [Putin] came and went to the cemetery in person. Putin has stopped the war. Putin should be made president for life. Strong rule is needed. Democracy is all but an American fabrication... Russians never obey their laws. Everyone was stealing, and only Khodorkovsky is in jail.[7][8][9]
Following a car accident in December 2005, in which Chechnya's prime minister Sergey Abramov was injured, Ramzan functioned as the caretaker prime minister. He immediately proceeded to implement elements of Sharia law, such as declaring a ban on gambling and alcohol production.[10]
RK and Gerard Depardieu
In February 2006, responding to the publication of the Mohammed cartoons, he accused the Danes of "spying" and being "pro-terrorist". He also banned Danish citizens from entering Chechnya, effectively banning activity of the Danish Refugee Council, the largest NGO working in the region. Kadyrov is quoted as saying, "That cartoonist needs to be buried alive." He was eventually pressed to overturn this decision by Moscow, a rare example of federal intervention in Kadyrov's rule in the republic.[11]
On 1 March 2006, Sergey Abramov resigned from the position of prime minister and told Itar-Tass news agency that he did so "on the condition that Ramzan Kadyrov lead the Chechen government." This was followed by a decree of Kadyrov forcing women to wear headscarves; he also rejected a federal appropriation of the republic's budget, demanding more money, and called for all federal forces but the border guards to be withdrawn.
Shortly after taking office, Kadyrov approved a project to erect a presidential palace on a 30-acre (120,000 m2) plot by the Sunzha River in ruined downtown Grozny. The project, which will also include a five-star hotel and recreational facilities, is estimated to cost around 1.5 billion rubles ($54 million USD) to build. ... Reuters quoted him as saying that "liquidating the refugee camps will allow us to uncover spies who are working for foreign intelligence services".[12]
... In 2006, leaked cables from an American diplomat recounted a lavish wedding attended by Kadyrov in Russia's Caucasus region in which guests threw $100 bills at child dancers, and which had nighttime "water-scooter jaunts on the Caspian Sea", and a report that Ramzan Kadyrov gave the newly married couple a "five-kilo lump of gold".[16]
... On 15 February 2007, Putin signed a decree removing Alkhanov and installing Kadyrov as Chechen's acting president.[17] ... Critics allege that Ramzan Kadyrov is actively building his own "vertical of power" in the republic, and encouraging nepotism by placing men of the Beno clan in all the leading and important positions.
After the car-bomb attack on Yunus-bek Yevkurov, president of the neighboring Republic of Ingushetia on 22 June 2009, Kadyrov claimed that the Kremlin had ordered him to fight insurgents there, and during his subsequent visit to the republic on 24 June pledged ruthless vengeance.[21]
In late December 2009, Kadyrov claimed that remaining rebels were getting financed by "The West"; "I officially declare this: those who destroyed the Soviet Union, those who want to destroy the Russian Federation, they stand behind them". He also suggested he did not seek another term as President and that Russia should attack Georgia and Ukraine "It's Russia's private affliction; why should we always suffer if we can eradicate this for good?".[22]
As reported by the Caucasian Knot, an independent human rights resource, on 5 February 2009, "in the course of his meeting in Grozny with Ramzan Ampukaev, representative of the Chechen Diaspora in Europe, Ramzan Kadyrov invited former militants, now living in Europe, to come back home":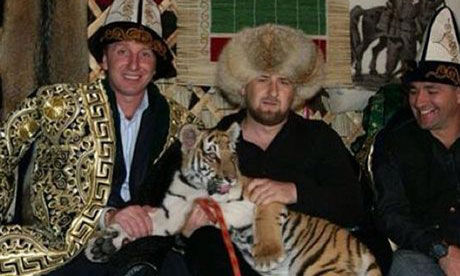 Mr. Kadyrov and I are in complete agreement on the desirability of Chechens returning to Chechnya.
... An assassination attempt on Kadyrov and a parliament member Adam Delimkhanov was averted on 23 October 2009, by the police. Chechen Deputy interior minister Roman Edilov said the police shot dead the driver of a speeding car filled with a 200-litre tanker after firing warning shots shortly before Kadyrov was to arrive at a construction site. The driver of the car was later identified as a militant leader (so-called Urus-Martan emir Beslan Bashtayev).[27][28] Said-Emi Khizriev, who played a role in organizing the attack, was killed by Russian police who tried to arrest him in the Michurin village in Grozny.[29]
Sounds a little like the FBI shooting of young Todashev in Florida?
Kadyrov has been personally implicated in several instances of torture and murder. A number of Chechens opposed to Kadyrov have been assassinated abroad, and several witnesses (including Artur Kurmakaev and Ruslan Khalidov) report the existence of a 300-name "Murder List".[30]
... A mutinied commander, Movladi Baisarov, said that Kadyrov "acts like a medieval tyrant. If someone tells the truth about what is going on, it's like signing one's own death warrant. Ramzan is a law unto himself. He can do anything he likes. He can take any woman and do whatever he pleases with her. (...) Ramzan acts with total impunity. I know of many people executed on his express orders and I know exactly where they were buried".[31] On 18 November 2006, Baisarov was killed in an ambush by members of Kadyrov's police on Moscow's Leninsky Prospekt, only a few hundred meters from the Kremlin.
... On 23 October 2006, a criminal case was registered on the basis of the video tape frames published by the Novaya Gazeta newspaper in Anna Politkovskaya's article. Sergey Sokolov, deputy editor-in-chief of the paper, told the Echo Moskvy Radio that it can be clearly seen in the video as to how "Kadyrov's military forces are beating federal soldiers" with participation of "a man looking like Ramzan Kadyrov".[35] On 7 October 2006, Politkovskaya was found shot dead in an elevator in her apartment in Moscow.
... The Memorial group investigator stated in its report: "Considering the evidence we have gathered, we have no doubt that most of the crimes which are being committed now in Chechnya are the work of Kadyrov's men. There is also no doubt in our minds that Kadyrov has personally taken part in beating and torturing people. What they are doing is pure lawlessness. To make matters worse, they also go after people who are innocent, whose names were given by someone being tortured to death. He and his henchmen spread fear and terror in Chechnya. (...) They travel by night as death squads, kidnapping civilians, who are then locked in a torture chamber, raped and murdered".[37]
I don't know what this is
... Ramzan is rumoured to own a private prison in his stronghold of Tsentoroi, his home village south-east of Grozny. Fields around Tsentoroi are allegedly mined and all access routes are blocked by checkpoints. ...
A video leaked out in which armed men, loyal to Kadyrov, displayed the severed head of a Chechen guerrilla (who was killed in July 2006) for public display in the village of Kurchaloi, marking the brutality of his forces. They mounted the head on a pipe, together with blood-stained trousers and put a cigarette on him.
On 15 July 2009, Natalia Estemirova, a member of Memorial society, who investigated the alleged abuses by government-backed militias in Chechnya, was abducted and shot to death.[48] Memorial's chairman Oleg Orlov accused Kadyrov of being behind the murder,[49] and claimed that Kadyrov had openly threatened her by saying: "Yes, my arms are up to the elbows in blood. And I am not ashamed of that. I have killed and will kill bad people".[50] Kadyrov denied any involvement in the killing and promised to investigate the killing personally. He condemned the killers, and in response to Orlov's accusations, said: "You are not a prosecutor or a judge therefore your claims about my guilt are not ethical, to put it mildly, and are insulting to me. I am sure that you have to think about my rights before declaring for everyone to hear that I am guilty of Estemirova's death."[51] It was later reported that Kadyrov would be suing Memorial for defamation and slander, targeting Orlov personally with his complaint.[51][52]

On 12 March 2006, a Chechen separatist website posted a short video shot on a mobile phone of a party in a sauna involving two alleged prostitutes and several men, including one who looks and sounds exactly like Ramzan Kadyrov, seen dancing with a young, half-naked woman and trying to rip her bra off. ... Andrew Osborn, Moscow reporter for the Independent, reports that "Mr Kadyrov's aides have laughed off the grainy video ... as a 'provocation'.".[53][54] However, one of people close to Kadyrov confirmed that such orgies are conducted on a regular basis[55]

... In 2009, Kadyrov stated his approval of honor killings, based on the belief that women are the property of their husbands.[57]

Since 1996 Kadyrov is married to Medni Musaevna Kadyrova (born 7 September 1978) and they have eight children: ...
Kadyrov is a noted collector of sports cars. He owns a Lamborghini Reventón, one of only 20 made.[59][60] He is also known for his extensive collection of Chechen daggers.[61][62] On 5 October 2011, he celebrated his 35th birthday in a lavish fashion in the presence of several Hollywood stars, including the actor Jean-Claude Van Damme and the actress Hilary Swank as well as British violinist Vanessa-Mae, singer Seal and many others.[63] When asked where the money for the live-televised celebration were coming from, he reportedly laughed and said "Allah gives it to us", before adding: "I don't know, it comes from somewhere".[64]