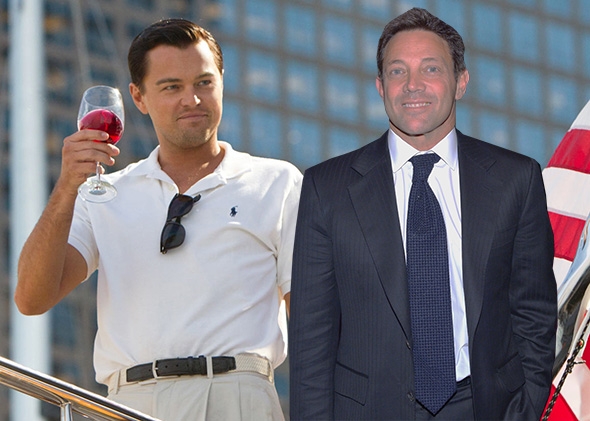 DiCaprio / Belfort
Rob Eshman, publisher of the
Jewish Journal
, writes about
The Wolf of Wall Street
:
'The Wolf' and the Jewish problem
... But I do regret that Scorsese chose not to deal with the fact that Jordan Belfort is Jewish. Although some of the characters in "Wolf," like Jonah Hill's Donnie Azoff, are clearly portrayed as Jews, even to the point of wearing chai necklaces around their coke-frosted necks, Belfort, with his Anglo looks and Frenchy name, is left to be simply American. I get it: To do otherwise might give the movie a whiff of anti-Semitic caricature. Scorsese feels much safer depicting the Italian-ness of his violent mobsters than the Jewishness of his greedy con men.
Or maybe it's because these days Scorsese makes
Leonardo DiCaprio
movies. And DiCaprio appears to be 1/4 Italian, 1/4 German, and, as he told
Vladimir Putin
in 2010, 1/2 Russian (although his apparently Russian maternal grandparents lived in
Germany
, where his grandfather was a coalminer). Scorsese could cast his former main man De Niro as Jewish in
Casino,
but DiCaprio would be a tougher sell.
But, just between us, let's talk about Belfort-the-Jew — let's go there. In the movie, you never really understand how someone so gifted can be so morally unmoored. But in his memoir, upon which the movie is based, whenever Belfort refers to his Jewish roots, the diagnosis becomes more apparent.
He is a kid from Long Island. His dad, Max, grew up "in the old Jewish Bronx, in the smoldering economic ashes of the Great Depression." Belfort didn't grow up poor by any means, he just wasn't rich enough. The hole in him wasn't from poverty, but from desire for acceptance. The "blue-blooded WASPs," Belfort writes, "viewed me as a young Jewish circus attraction."
Belfort had a chip on his shoulder the size of a polo pony, and so did everyone he recruited. They were, he writes, "the most savage young Jews anywhere on Long Island: the towns of Jericho and Syosset. It was from out of the very marrow of these two upper-middle-class Jewish ghettos that the bulk of my first hundred Strattonites had come…."
It's not complicated, really. Poor little Jordan wanted to show those WASPs whose country clubs he couldn't join that he was smarter, richer, better.
I really am going to have to write about the
country club thing
one of these days. I've found an Anti-Defamation League report from a half century ago on country clubs that's pretty interesting.
What he failed to understand is that just about every Jew, every minority, shares the same impulses. But only a select few decide the only way to help themselves is to hurt others.
Belfort, like Bernie Madoff, is an extreme example. These are guys who feel they have nothing, they are nothing, so they will do anything to acquire everything. They cross a pretty clear line and just keep going.
The question that gnaws at me is whether there's something amiss in the vast gray area that leads right up to that line. Are the Belforts and Madoffs unnatural mutations, or are they inevitable outgrowths of attitudes that have taken root in our communities? ...
These days, we are deep in the pit arguing over the American Studies Association's (ASA) boycott of Israeli academics and whether Jewish students at Swarthmore College's Hillel should open their doors to anti-Zionist speakers. We have devoted so many smart words and fiery sermons to these issues, you'd think the entire Jewish future depended upon them. Never mind that there are bridge clubs bigger than the ASA, and that the State of Israel, with its history, power and genius, may just survive the withering onslaught of a panel discussion in suburban Pennsylvania. The Jewish world never lacks for turbulent conversations. My only concern is whether they're the right ones. Talking about Israel is easy — talking about money is uncomfortable.
But these are the conversations we need to be having. What's the right way to make money? How much is enough? How much must we share, and with whom? We are blessed to be living at a time of unparalleled Jewish power and wealth, and it makes us so uneasy, we prefer to talk about everything but.