America's patriot Senator, Jeff Sessions, took the floor on Thursday to advocate for citizen workers, noting, "We don't need to be passing a law, like the Gang of Eight bill, that would double the H-1B workers brought into America, increase by 50% the annual flow, add another 5 million so-called 'backlog' workers, in addition to legalizing some 11-million plus [current illegal immigrants]—at a time when Americans are having wages fall and jobs are very, very difficult to find."
Below, a freight train packed with illegal aliens hoping to get a raft of free stuff in America travels though Mexico.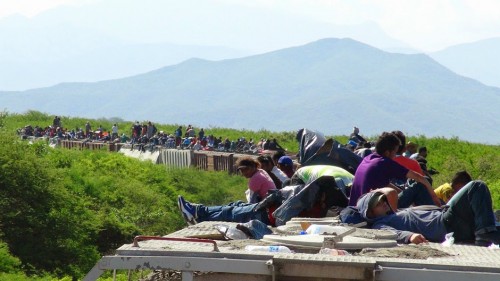 Unfortunately the clip above doesn't show the back and forth with Senator Durbin who defended tax benefits for illegal aliens. Fortunately, somebody was taking notes at The Blaze.
Dems block GOP bills to verify status, block tax credits to illegal immigrants, Blaze Blog, June 26, 2014

Senate Democrats blocked Republicans on Thursday from passing two bills that would require companies to verify the legal status of people before they hire them, and stop the government from handing out child tax credits to illegal immigrants.

Sessions tried to get approval for the two bills after saying illegal immigration is swamping the U.S., which is leading to reduce wages for Americans and higher costs as these immigrants start improperly receiving federal tax benefits.

He first tried to pass the Accountability Through Electronic Verification Act, sponsored by Sen. Chuck Grassley (R-Iowa.) That bill would require companies to verify whether possible employees are legally able to work in the country.

But Sen. Dick Durbin (D-Ill.) argued that this e-verify provision was in the Senate's broad immigration bill that passed a year ago, and said Democrats aren't looking to negotiate passage of sections of that bill.

"We are not going to take that bill apart piece by piece, as the senator from Alabama suggests," Durbin said. "I object."

Sessions said if the e-verify program can be accepted by Democrats in the larger bill, they should be able to approve it quickly this week.

"[I]f it's so good, why don't we bring it up and pass it now?" Sessions asked. "Why do we have to pass along with it a bill that will double the number of guest workers in the country, and would increase immigration?"

Sessions then tried to pass the Child Tax Credit Integrity Preservation Act, which would change the law to ensure illegal immigrants cannot receive child tax credit benefits. But Durbin objected again, and seemed to indicate he believes these benefits should flow to non-citizens.

"I want to make sure that working families with small children have the helping hand of our tax code," he said. "I want to stop any fraud in any program in our tax code, but I don't believe this bill is a balanced approach to solving the problem, and I object."

That left a stunned Sessions to note that the Treasury Department's Office of Inspector General has said $4.2 billion in child tax credits were given to illegal immigrants.

"I am flabbergasted, amazed that we would sit by and $4 billion in child tax credit payments to go out that are not justified," he said.