Ed Rubenstein is releasing a report on infrastructure and immigration at the National Press Club on January 13.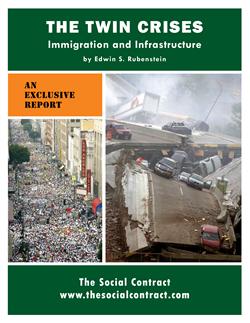 January 5, 2009 For Immediate Release

New Report: U.S. Infrastructure Overwhelmed by Influx of Immigrants

$1.6 Trillion Needed to Repair and Maintain Nation's Hospitals, Schools, Parks, Water Supply, Bridges, and Basic Infrastructures

WASHINGTON, D.C.- Immigration policies need to go hand-in-hand with decisions to repair the deteriorating U.S. infrastructure, according to a unique new report to be released on January 13. "The Twin Crises: Immigration and Infrastructure," by prominent researcher Edwin S. Rubenstein, will be released by the Social Contract Press on January 13 at a news conference at the National Press Club in Washington, D.C.

Immigration will be responsible for more than 80 percent of the spending needed to expand infrastructure capability between now and mid-century, according to the report. Ed Rubenstein examines 15 categories of infrastructure: airports, border security, bridges, dams and levees, electricity (the power grids), hazardous waste removal, hospitals, mass transit, parks and recreation facilities, ports and navigable waterways, public schools, railroads, roads and highways, solid waste and trash, and water and sewer systems.

The American Society of Civil Engineers estimates that $1.6 trillion dollars is needed to repair and maintain U.S. infrastructure in next 5 years. The massive influx of immigrants into the U.S. is increasing the demands on an overburdened infrastructure, much of which was built shortly after World War II and is outdated and deteriorating.[More]
There's also a
press kit online
, with more details. Infrastructure has been covered here on VDARE.com—see
Infrastructure to the Rescue? Not Without Immigration Reform
by Ed, andÂ
Will Jobs In Obama's Infrastructure Boondoggle Be Reserved For Americans–As In FDR's WPA?
by Steve Sailer.