Its spring and the weather is pleasant for travel from
Central America to the American southwest
compared with the brutal heat of summer. The illegal alien
Centrals
are attracted by the boatload of freebies they receive upon arrival in
deluxe detention facilities
before they are transferred to more permanent quarters where they get more free stuff and
schooling for the juveniles
all on the backs of the
unwilling taxpayers
. Should we be surprised that Obamas illegal alien army of future Democrats is again crossing illegally in the thousands?
Jessica Vaughan appeared with Neal Cavuto Tuesday to discuss the latest kiddie colonists from south of the border.
CAVUTO: New government numbers obtained by the Washington Examiner showing that more than 12,000 illegal kids already crossed since October but only a handful of them are being returned. Jessica Vaughan says that is the problem. So Jessica, just understand this is post the wave of teens and young adults who got here last summer.

VAUGHAN: Thats right, this is the number that have come since the beginning of the new fiscal year which started on October 1st and these documents show that the Border Patrol has been turning over roughly about 2000 illegal alien unaccompanied minors to ICE for release into the country every single month, which would put us on pace to see the second largest number ever to cross if this trend continues throughout the fiscal year which most people in the Border Patrol and other enforcement agencies expect to happen. This is supposedly the slow time of the year but already we have very high numbers of people coming and it shows that the surge never really stopped, it just lessened a little bit. . . . Surge Two is already in progress.
Do-gooders in McAllen Texas agree that the number of illegals has been trending up of late. Catholic Charities (which gets millions of citizens tax dollars to assist foreign lawbreakers) in the city promises to meet the demand.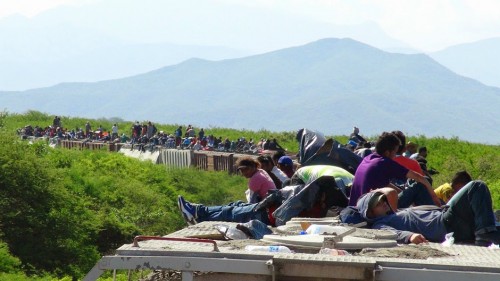 In other news about unfriendlies running wild, Judicial Watch reports: New Documents Show Homeland Security Released 165,900 Convicted Criminal Aliens throughout U.S. as of April 26, 2014.
Heres the Washington Examiner story mentioned in the video:
12,509 illegal kids already over border in second wave, just 1 in 6 returned, Washington Examiner, By Paul Bedard, March 23, 2015

The next explosion of illegal teen border crossing is in full swing, but just one-in-six are being sent home, with most of the rest settled in the United States, according to new government figures.

The U.S. Border Patrol agency reported that they have seized 12,509 illegals under age 18 since October, making it the second biggest surge in history after last years unprecedented movement of unaccompanied youths across the nations southern border.

However, when compared to the numbers of illegal kids turned over to U.S. Immigration and Customs Enforcement, it is clear that most are being booked in to U.S. facilities and then released — not sent home.

ICE documents provided to the Washington Examiner shows that ICE is accepting an average of 2,000 a month, meaning that the Border Patrol is returning just one of six kids to their countries, mostly Mexico, Guatemala, El Salvador and Honduras.

For example, the papers show that ICE booked in 2,355 unaccompanied youths in December 2014, second only to the previous Decembers 3,582.

And this is supposed to be the slow time of year, said expert Jessica M. Vaughan, director of policy studies at the Center for Immigration Studies. Cities and towns that have already received large numbers of unaccompanied illegal alien minors should brace themselves to repeat the process again in the coming months, she added.

Based on those figures and her experience charting the last years surge of illegal immigrants, teens, she projected that U.S. border officials are on track seize about 42,000 unaccompanied alien children, or UACs, this year.

While fewer than the 56,029 taken into the United States last year, it is a clear sign that the administrations claim it has posted a Return to Sender note on border crossings isnt having the expected impact on the mostly boys crossing into the United States.

Consider: Already in the current fiscal year, which began in October, ICE has let in 6,580 illegals, more than in all of fiscal year 2011. Generally, said Vaughan, most are released to await an immigration hearing in three to five years.

The custody management documents show that babies less than a year old are being accepted into the U.S., with the largest group being 17-year-olds; illegal boys outnumber illegal girls two to one; the top country of origin was Guatemala with 3,292 youths let into the U.S.

The numbers seized at the border are typically higher than the number of those booked into the United States since some are turned back. Whats more, only about half of those who try to cross the border illegally are typically caught or even noticed.