The headline: Pepsi Beverages pays $3.1M in racial bias case, by Sam Hananel, AP, January 11, 2011.
Pepsi

Beverages Co. will pay $3.1 million to settle federal charges of race discrimination for using

criminal background checks

to screen out job applicants — even if they weren't convicted of a crime.
The settlement announced Wednesday with the

Equal Employment Opportunity Commission

is part of a national government crackdown on

hiring

policies that can hurt blacks and Hispanics.
AP is putting the best PC face that it can on this, but in fact the real "racial bias" is on the part of the Obama Adminstration—it is using raw power to extort rent out of a corporate victim and redistribute it to favored racial groups.
Pepsi wasn't discriminating in any sense traditionally understood by Americans: it simply had a policy (in AP's summary) of excluding everyone, regardless of race, who "who had been arrested, but not convicted of a crime, and denied employment to others who were convicted of minor offenses".
The EEOC's unblushing rationale:
Using arrest and conviction records to deny employment can be illegal if it's irrelevant for the job, according to the EEOC, which enforces the nation's employment discrimination laws. The agency says such blanket policies can limit job opportunities for minorities with higher arrest and conviction rates than whites.
(Emphasis added). In other words, whites are being punished, by being deprived of jobs and because Pepsi's inevitably increased costs will be passed to consumers at large, because they do, of course, commit fewer crimes than blacks and Hispanics. This is what it means to have a Minority Occupation Government.
A lawyer friend writes:
Corporations clearly have been advised by employment litigation counsel that the Supreme Court will rule for the plaintiffs. If there were any chance of a favorable ruling, at least a few defendants would litigate, lose, lose again on appeal, and petition for cert.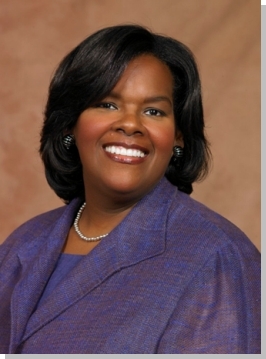 If so, this means is that employment law has become an instrument to dispossess the historic American nation.
A political party that actually represented that nation's interests would be campaigning for legislation to correct this atrocity.
(Pictured : Jacqueline Berrien, Chair of the EEOC.)