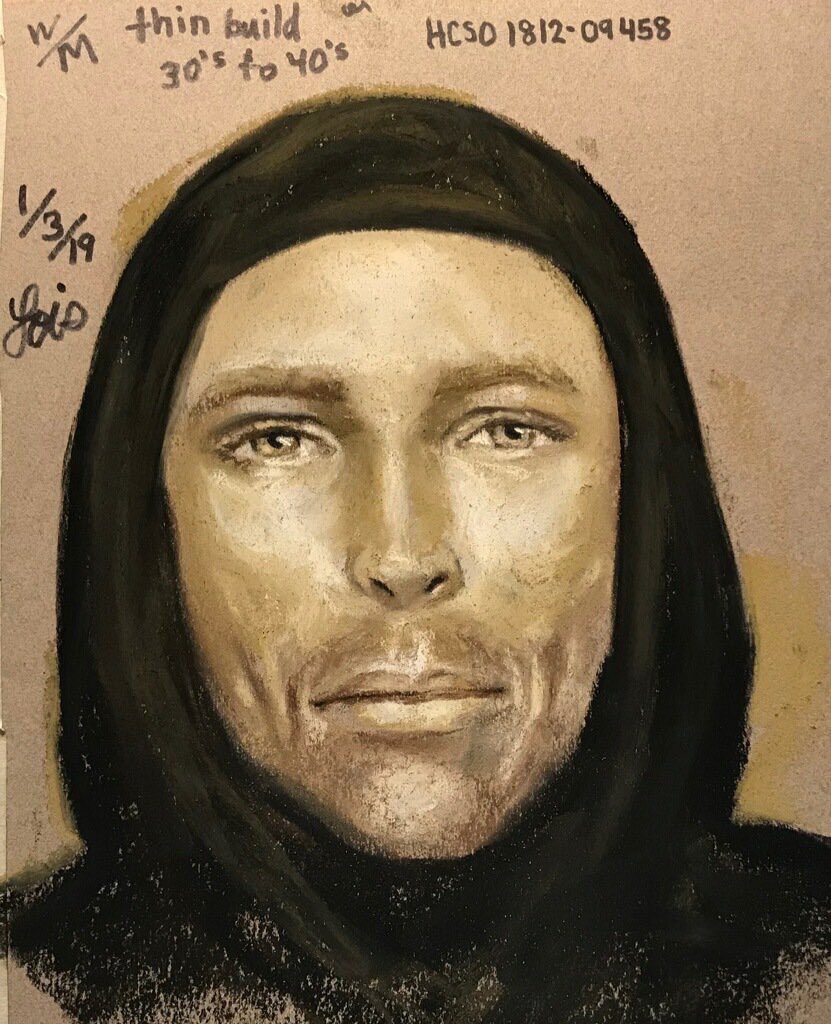 From the New York Times on New Year's Day:
Police Searching for Gunman Who Fired Into Car and Killed a 7-Year-Old

By Sarah Mervosh, Jan. 1, 2019

A 7-year-old who was riding in a car with her mother and three sisters was killed in Texas over the weekend, the authorities said, when a gunman in a pickup truck suddenly pulled up alongside them and opened fire.

The authorities, who said the shooting appeared random and unprovoked, were searching Monday for her killer. …

The authorities described the gunman as a white man in his 40s with a beard, wearing a red, hooded sweatshirt and driving a red pickup truck.
The police sketch looked like the kind of cruelly handsome white actor who gets cast in home security TV commercials as a burglar.
The image of a white man suddenly firing on a black family raised questions about whether the shooting had been racially motivated. Sheriff Gonzalez said the authorities had not established a motive and could not discount the possibility of a hate crime.

"We're not ruling anything out and we're not going to speculate," he said.
As I've mentioned before, in recent years, the cops have had a pretty good record at not getting carried away by media enthusiasm to hand them Great White Defendants. "We're not ruling anything out and we're not going to speculate," is a pretty good response.
From the New York Times today:
At Rally for Jazmine Barnes, an Outpouring of Grief and a Plea for Answers

By David Montgomery and Julia Jacobs, Jan. 5, 2019

HOUSTON — Relatives of Jazmine Barnes, the 7-year-old Texas girl who was fatally shot inside a moving car, grieved on Saturday at an emotionally charged rally not far from where the gunman opened fire on a family that was out on a morning coffee run.

Nearly 1,000 people gathered to honor Jazmine and to urge law enforcement to find the man who the police said attacked on Dec. 30 without provocation.

Jazmine, who was black, was in the car with her mother and three sisters when a white man pulled his red pickup truck beside them and began shooting, the police said.
But … from Fox 26 News in Houston today:
Multiple sources say black man in custody in Jazmine Barnes case
By: FOX 26 Houston staff, POSTED: JAN 05 2019 08:45PM CST

HOUSTON (FOX 26) — Multiple sources tell FOX 26 News that a suspect is in custody in the shooting death of 7-year-old Jazmine Barnes, along with a possible second suspect. Sources say the alleged shooter is black, not white, and also that the shooting may have been gang-related.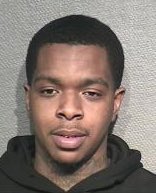 Update: an anonymous iSteve commenter points out that the New York Times was obsessed with this police blotter item from a different time zone:
Stories on this non-local story in the New York Times up until the arrest of a black suspect:
The Latest: Texas Sheriff Releases Shooting Victims' Names – The …
https://www.nytimes.com/aponline/2018/12/30/…/ap-us-child-shot-houston-the-latest.ht…
6 days ago – Harris County Sheriff Ed Gonzalez said in posts on Twitter and Facebook that 7- year-old Jazmine Barnes died Sunday in the Houston-area …

Gunman Fires on Car in Houston Area, Killing 7-Year-Old Girl – The …
https://www.nytimes.com/aponline/2018/12/30/us/ap-us-child-shot-houston.html
6 days ago – Harris County Sheriff Ed Gonzalez said in posts on Twitter and Facebook that the girl who died was 7-year-old Jazmine Barnes. He said her …

Police Searching for Gunman Who Fired Into Car and Killed a 7-Year …
https://www.nytimes.com/2019/01/01/us/jazmine-barnes-houston-shooting.html
5 days ago – Jazmine Barnes, a second grader, was riding in a car with her family in Houston when a gunman in a red pickup truck opened fire, the …

The Latest: Victim: Gunman Fired Beside and in Front of Car – The …
https://www.nytimes.com/aponline/2018/12/31/…/ap-us-child-shot-houston-the-latest.ht…
5 days ago – Washington was shot in the arm and her daughter, Jazmine Barnes, was killed in the shooting Sunday morning. Another daughter, 6, was …

Texas Officials Have Image of Pickup Involved in Attack – The New …
https://www.nytimes.com/aponline/2018/12/31/us/ap-us-child-shot-houston.html
5 days ago – … on what prompted the driver of the pickup to pull alongside and fire into the car carrying Jazmine Barnes, three of her sisters and her mother.

Officials Seek Driver Who Fired Into Car, Killing Texas Girl – The New …
https://www.nytimes.com/aponline/2019/01/02/us/ap-us-child-shot-houston.html
4 days ago – … fire into the car carrying 7-year-old Jazmine Barnes, three of her sisters and her mother. Gonzalez says the shooting as "totally unprovoked.".

The Latest: Sheriff: Motive in Fatal Shooting Still Unclear – The New …
https://www.nytimes.com/aponline/2019/01/02/…/ap-us-child-shot-houston-the-latest.ht…
3 days ago – … Sheriff Ed Gonzalez said Wednesday that his agency is not "tone deaf" to concerns that race played a role in the death of Jazmine Barnes.

Police Investigating Drive-By Shooting of Jazmine Barnes Seek …
https://www.nytimes.com/2019/01/02/us/texas-shooting-jazmine-barnes.html
3 days ago – In the days after Jazmine Barnes, 7, was fatally shot inside a moving car near a Walmart outside Houston on Sunday morning, the police have …

Sketch Released of Suspect in Shooting of Texas Girl – The New York …
https://www.nytimes.com/aponline/2019/01/03/us/ap-us-child-shot-houston.html
2 days ago – Investigators say he pulled up alongside the car Jazmine Barnes was riding in with her family Sunday and fired into the vehicle in the eastern …

Mother: Jazmine Barnes' Killing Was a Hail of Glass, Bullets – The New …
https://www.nytimes.com/aponline/2019/01/04/us/ap-us-child-shot-houston.html
1 day ago – It was still dark outside when LaPorsha Washington drove her four daughters, including 7-year-old Jazmine Barnes, in the family's silver car at …

Hundreds Rally as 7-Year-Old Girl's Killer Remains at Large – The …
https://www.nytimes.com/aponline/2019/01/05/us/ap-us-child-shot-houston.html
7 hours ago – Those gathered Saturday were asked to be part of an "army" that will help authorities catch the person who fatally shot Jazmine Barnes. The girl …

At Rally for Jazmine Barnes, an Outpouring of Grief and a Plea for …
https://www.nytimes.com/2019/01/05/us/jazmine-barnes-houston-rally.html
5 hours ago – HOUSTON — Relatives of Jazmine Barnes, the 7-year-old Texas girl who was fatally shot inside a moving car, grieved on Saturday at an …