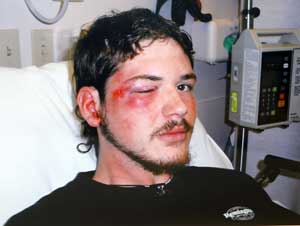 Theo Shaw [Twitter]was one of the racist gang of six to 10 blacks who conspired to commit, and carried out a hate crime six years ago in Jena, Louisiana. The racist mob of powerful football stars variously beat white classmate Justin Barker almost to death for breathing while white, and set up a perimeter, blocking any student or teacher who sought to come to Barker's aid. (The other hate criminals were Mychal Bell, Robert Bailey Jr., Carwin Jones, Bryant Purvis and Jesse Ray Beard.)
At the time, white, leftwing activist preacher Alan Bean wrote the script for, and white, leftwing, activist Chicago Tribune reporter Howard Witt promoted the Jena Hoax, which depicted the racist criminals as somehow being the victims of white "racism." The $PLC then also promoted the hoax as a method by which it collected anywhere from hundreds of thousands to millions of dollars in ill-gotten gains. (That sort of thing used to be called wire fraud, a felony.)
After a law firm agreed to defend the six attackers who were charged for free, some or all of the attackers nevertheless started a fundraising campaign netting them between 500,000 and millions of dollars. (That used to also be called wire fraud.)
To this writer's knowledge, none of the hate criminals endured any punishment. (E.g., Mychal Bell was sentenced to jail time for his near-murder of Barker, but to be served "concurrently" with his sentence for another crime, i.e., his sentence for his hate crime against Barker added not one day to his jail time.)
Indeed, they became national heroes to racists, with Bryant Purvis and Carwin Jones invited to appear as presenters on the BET Awards, where the racist black crowd gave them a standing ovation for their hate crimes.
Note that while none of the Jena 6 was punished for his hate crime, white Jeremiah Munsen, who committed no crime, was railroaded into federal prison, merely for protesting and mocking the Jena 6 and their supporters. The feds magically transformed Munsen's constitutionally-protected, symbolic speech into a "hate crime."
The $PLC has now proudly announced that it has hired Theo Shaw as a "community advocate," in a fraudulent press release that keeps hoax alive. Perhaps Shaw will advocate for other racist blacks who have committed hate crimes. In any event, the $PLC is clearly putting him out as a "role model" for other violent, black racists.
"The two friends [Shaw and Robert Bailey Jr.] were among the six black teens, known as the "Jena Six," who were accused of beating up a white classmate at Louisiana's Jena High School. The local prosecutor's decision to charge them with attempted murder ignited a firestorm of media attention and public outrage across the country, raising troubling questions about race and justice in America."
The $PLC press release, by Jamie Kizzire, implies that Shaw had not committed any crime, and continues the ruse of portraying the remorseless, racist criminal as a victim of injustice. The conclusion is inescapable that the $PLC supports racist hate crimes against whites.
"It's an opportunity he earned through long nights in that Louisiana jail cell.

[N.S.: In other words, he earned his job through his racist hate crime.]

"The system has your life in their hands and you don't know what the outcome is going to be," he said. "There were many nights when I cried because I was just uncertain about what would happen with my life."...

["The system." The man. None of this was Shaw's own doing. Got it?]

"The SPLC coordinated [?] the overall defense strategy for the youths and represented [!] one of the teens, Jesse Ray Beard....

"'I really didn't have a plan [SPLC: after high school]. I lived in a poor community," said Shaw, who later reached a plea agreement that allowed him to put the case behind him. "That experience kind of changed my whole path. It awakened a desire within me to attend law school."

"Bailey now attends Grambling State University in Louisiana. SPLC board member Alan Howard became Beard's guardian and enrolled him in a prestigious Connecticut boarding school, from which he graduated. Beard is now pursuing his college education at Hofstra University."
I sought to post the following comment at the $PLC's site. Its status is pending.
Subject: Hate Inc.
Comment: Hate pays.
This news should finally dispel any doubt about $PLC leaders' real beliefs. They support all manner of racially-motivated hate crimes committed by non-whites against whites. While it is VDARE's house style to refer to this hate/treason group as the "$PLC," I will henceforth refer to it as Hate, Inc.
12/17/2012

'Jena Six' teen now an SPLC community advocate

By Jamie Kizzire

SPLC

December 17, 2012

Theo Shaw remembers searching through a law book for answers while sitting in a jail cell.

It was 2006. Shaw and Robert Bailey Jr. were two teenagers desperate to find something in the law that could help them get out of jail.

"We were looking for hope," Shaw said. "We were looking to file anything we needed to file to get out."

The two friends were among the six black teens, known as the "Jena Six," who were accused of beating up a white classmate at Louisiana's Jena High School. The local prosecutor's decision to charge them with attempted murder ignited a firestorm of media attention and public outrage across the country, raising troubling questions about race and justice in America.

Though he was only 17 at the time, Shaw began filing motions to lower his bail, which was his best chance of getting released. It was eventually reduced from $130,000 to $90,000. The community came together to post bond, freeing him after seven months behind bars.

It was a life-changing moment for the teen.

"I really didn't have a plan [after high school]. I lived in a poor community," said Shaw, who later reached a plea agreement that allowed him to put the case behind him. "That experience kind of changed my whole path. It awakened a desire within me to attend law school."

Bailey now attends Grambling State University in Louisiana. SPLC board member Alan Howard became Beard's guardian and enrolled him in a prestigious Connecticut boarding school, from which he graduated. Beard is now pursuing his college education at Hofstra University.

Today, the 23-year-old carries that jailhouse experience with him as he works with incarcerated youths and adults as a community advocate for the Southern Poverty Law Center in New Orleans. It's an opportunity that he believes will serve him well when he is a lawyer one day.

"I would ultimately like to be a trial attorney," Shaw said. "This could be my ego, but I really think I could be an awesome trial attorney as far as being able to advocate on behalf of other people – being able to tell their story to a jury in a compelling way."

From Jena to the SPLC Shaw joined the SPLC in September after graduating from the University of Louisiana at Monroe with a bachelor's degree in political science. When he heard about an opportunity to serve as an SPLC community advocate for a year, he saw a learning experience that was worth delaying his entrance into law school.

Shaw's job often takes him to the Orleans Parish Prison, where he speaks with inmates. His work is part of the SPLC's federal lawsuit to correct the violent and inhumane conditions there. He also visits the Harrison County Juvenile Detention Center in nearby Biloxi, Miss., to ensure the children [sic] held there are safe. The detention center is under a settlement agreement with the SPLC to correct abusive conditions.

While working with juveniles, Shaw draws on his experience as one of the Jena Six, though he notes he doesn't actively promote his story. In fact, he hasn't mentioned it to the youths he has encountered. But the experience gives him the ability to address their concerns with a sincerity that can give them some peace of mind.

"Some people are in very bad circumstances, and people just show up and say, 'I understand' when they really don't," he said. "My experience allows me the opportunity to look them dead in the eye and pause one second and be like, 'Look, I really do understand. I understand where you are and I'm really going to see what I can do personally to help your situation.' It allows me that opportunity."

It's an opportunity he earned through long nights in that Louisiana jail cell.

"The system has your life in their hands and you don't know what the outcome is going to be," he said. "There were many nights when I cried because I was just uncertain about what would happen with my life."

Beyond the Jena Six

Shaw and four other members of the Jena Six ultimately pleaded no contest to simple battery, a misdemeanor, in 2009. Under the plea agreement, they received unsupervised probation for seven days but no additional jail time. They each paid court costs and all but Shaw were assessed a $500 fine.

A confidential agreement was reached to pay restitution to the victim, Justin Barker, through the settlement of a civil suit filed on his behalf. The SPLC coordinated the overall defense strategy for the youths and represented one of the teens, Jesse Ray Beard. The sixth teen – Mychal Bell – pleaded guilty to second-degree battery as a juvenile.

Shaw finished high school in Columbus, Ga., where members of Bailey's family lived. Though the two friends could have earned GEDs, they were determined to earn a high school diploma.

"We were willing to move anywhere to finish high school so we could ultimately go to college," Shaw said.

Bailey now attends Grambling State University in Louisiana. SPLC board member Alan Howard became Beard's guardian and enrolled him in a prestigious Connecticut boarding school, from which he graduated. Beard is now pursuing his college education at Hofstra University.

'Learning every day'

Shaw hasn't decided what law school he wants to attend, but he's already built a foundation for a legal career. Along with his work for the SPLC, he had a 2010 internship with the Innocence Project, a nonprofit dedicated to freeing the wrongfully convicted.

"I'm still learning every day," Shaw said of his SPLC work. "I try to make that a daily goal when I come into the office in the morning."

But it's bringing hope to incarcerated people in Louisiana and Mississippi that means the most to him.

"Being able to speak with them and to get their story, it gives them hope," he said. "It gives them hope that someone actually cares about their situation. And I think that's where my joy comes from. It's not coming here and getting a check. It's the joy of knowing that my work really matters to them."