This would be like a Cleveland Browns fan applying for a GOBROWNS vanity plate.
The California DMV denied Kotler's application, stating that the plate "carries connotations offensive to good taste and decency"—the standard the entity applies to vanity plates. When an impassioned appeal did nothing to thaw the bureaucrats' hearts, Kotler decided to sue. …

According to Eugene Volokh, a professor at the UCLA School of Law who specializes in the First Amendment, the law potentially violates two constitutional principles: It discriminates against speech based on viewpoint, and it relies on standards that are too discretionary (and therefore open to viewpoint-based discrimination).

"The ban on vulgarities—that could be seen as viewpoint neutral," Volokh says. "The ban on racially offensive material is clearly viewpoint based."
Fulham F.C. reminds me of the Wikipedia entry on "Recurring In-Jokes in Private Eye:"
… notoriously under-performing club Neasden F.C., which plays in the … depressing North Circular Relegation League, with quotes from its manager "tight-lipped, ashen-faced supremo Ron Knee (59)" and "the fans" (implying that there were only two) Sid and Doris Bonkers, … and in spite of the efforts of their goalkeeper, "One-legged net-minder Wally Foot".
But Fulham,on the west side of London, next to Kensington and Chelsea, is actually a glamorous neighborhood these days. Fulham F.C. was bought by Mohamed Al-Fayed in 1997, owner of the Hotel Ritz in Paris, whose son Dodi was killed in a car crash that year with Princess Di. Recently, he sold it to Shahid Khan, owner of the Jacksonville Jaguars of the NFL, who I believe is the highest ranking (#64) non-Caucasian on the American Forbes 400.
But Fulham's 2018-2019 season has been worthy of tight-lipped, ashen-faced supremo Ron Knee. From the BBC on April 2, 2019:
Fulham have been relegated from the Premier League with five games still to play after being hammered by Watford at Vicarage Road.

The Cottagers needed to avoid defeat to put off their inevitable demotion for another week …However, second-half goals from Will Hughes, Troy Deeney and Kiko Femenia condemned them to an immediate return to the Championship.
That's like the Triple AAA league of English soccer.
Fulham spent more than £100m on 12 new players last summer but the quality has been lacking all season.

Their players looked dejected as the final whistle confirmed they will be playing Championship football alongside Huddersfield next season, making 2 April the earliest date two clubs have been relegated from the Premier League.

Fulham had lost their previous eight Premier League games and, with just two points away from home all season, a visit to high-flying Watford always seemed to be a tall order.

Caretaker manager Scott Parker has overseen five defeats since replacing Claudio Ranieri and now relegation is confirmed, it is clear a significant rebuilding job will be required.

The Cottagers impressed in the Championship last year, coming up through the play-offs, and were tipped by many to make a positive impact in the Premier League.

However, it has turned into a nightmare with two managers sacked and 76 goals conceded so far – 17 more than Huddersfield Town, Cardiff City and Burnley.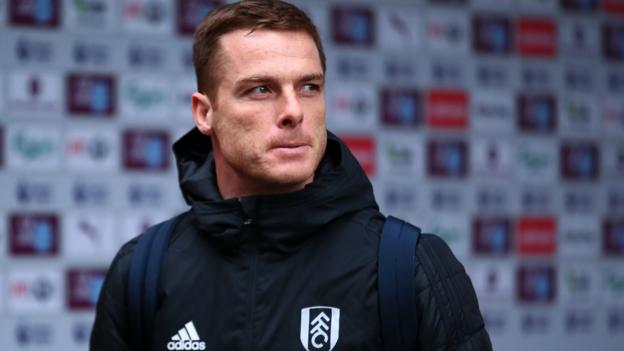 I'd be tight-lipped and ashen-faced too if I were managing Fulham this year.