So far, the national news media (e.g., networks and the New York Times and the Washington Post) are split over how heavily to invest in the Althea Bernstein Hate Crime story out of Madison, WI:
ABC is betting heavily on Ms. Bernstein's veracity:
From Yahoo.com:
Bernstein described the men as "classic Wisconsin frat boys" who appeared to be intoxicated. She said two of them were wearing all black and the other two donned floral shirts and jeans. Far right protestors in recent weeks have shown up in Hawaiian shirts to counter Black liberation demonstrations, but it is unclear at this time whether Bernstein's attackers are directly connected to the movement.
Update: Be on the lookout for a white racist frat boy named Haven Monahan.
But the NYT and WaPo haven't yet quite pushed all their chips to the center of the table on the Althea Bernstein Hate Crime story. They've just been running wire service accounts so far. For example, from the Washington Post:
Wisconsin woman wants burn attackers to know they hurt her
By Associated Press
June 26, 2020 at 9:30 a.m. PDT

MADISON, Wis. — A biracial Wisconsin woman who says a group of white men set her on fire while she was driving wants her attackers to know they hurt her but hopes they will improve themselves.

Althea Bernstein told ABC's "Good Morning America" for a Friday segment that she hasn't slept and doesn't have an appetite. But she called the attack in the state's capital city of Madison
As we all know, Madison is an uneducated Southern redneck hick town full of unreconstructed Confederates.
For example, just days ago a mob of white racists in Madison pulled down the statue of Union Army hero Colonel Hans Christian Heg as vengeance on the meddling damn Yankees.
a "learning opportunity" for her attackers.

"I'm very, very hopeful that these men sort of see all the responses and that they know that they hurt me and that this is something that's going to affect me for a while," she said. "And I really hope that they choose to improve themselves."

According to a police report, Bernstein, an 18-year-old studying to become a paramedic, was attacked while driving in downtown Madison early Wednesday morning. A crowd of 200 to 300 protesters had pulled down two statues outside the state Capitol building and attacked state Sen. Tim Carpenter on the Capitol lawn. Someone also threw a fire bomb into a city-county building, starting a fire.

In this undated photo provided by the family of Althea Bernstein shows the burns on Bernstein's face and neck after four white men sprayed her with lighter fluid and threw a lighter at her, setting her on fire as she was driving in downtown Madison, Wis., during protests that she was not a part of early Wednesday, June 24, 2020. Bernstein, who is studying to become an paramedic, drove away and patted out the flames. She visited an emergency room later that night, where she said health care workers had to scrub her skin off. She said she will eventually need plastic surgery. Authorities as investigating the incident as a hate crime. (Photo courtesy of family of Althea Bernstein via AP)
Bernstein told the news website Madison365.com that she didn't participate in the protests and was driving to her brother's home. She said she had her window down while stopped at a red light and heard someone shout a racial slur at her.

She said four white men appeared — two dressed in black and two in Hawaiian shirts — and sprayed her with lighter fluid. One allegedly tossed a flaming lighter at her, setting her neck and face on fire.
She said she "blasted" through the red light, patted the fire out and continued on to her brother's. She later visited an emergency room, where she said health care workers had to scrub her skin off. She said she will eventually need plastic surgery.

"I never really knew someone could hate you just by looking at you," Bernstein told the website. "They didn't know me. I didn't know them. I was just driving my car and minding my own business."

She contacted police later Wednesday morning and gave them a statement Thursday.

The attack is being investigated as a hate crime with assistance from the FBI, Madison Police spokesman Joel DeSpain said. A detective has been in touch with Bernstein and is reviewing surveillance video from the area to see if any cameras captured the attack, he said.
Somebody on Twitter pointed out a plausible-sounding alternative scenario:
Can't load tweet https://twitter.com/J_H_5/status/1276688708327129088: Sorry, you are not authorized to see this status.
That sure looks like a squirt bottle of lighter fluid for setting charcoal on fire. Whether that is a man or a woman is unclear.
But, in general, riots are dangerous places where events can play out in unexpected directions. Accidents happen, especially during a riot.
Time will tell.
But … the time sure matches up between this purported hate crime (wee hours of June 24th) and this real life arson attack nearby around 1 AM on a downtown Madison government building: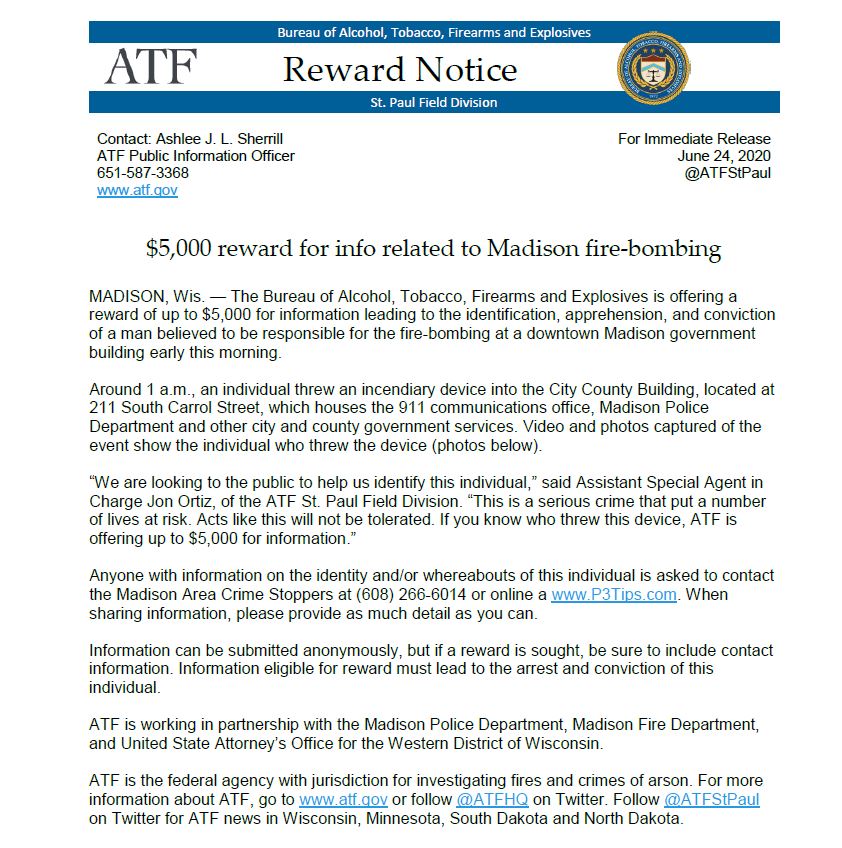 Funny how at almost the exact same time a Mostly Peaceful Protester/Arsonist was spraying lighter fluid on the City County Building in Madison, WI in the early morning hours of June 24, a young woman of color claims to have been attacked nearby by 4 racist white men who lit her on fire with lighter fluid.
ATF is looking for a man who threw an incendiary device into a government building in Madison, Wis., yesterday. Do you know who this is? If so, you may qualify for a $5K reward. Follow this link for details: https://t.co/qKqFN3TsDn pic.twitter.com/nX4p0g9Rqh

— ATF St. Paul (@ATFStPaul) June 25, 2020
A remarkable coincidence.
It might even have something to do with why Ms. Bernstein didn't initially report the flagrant Hate Crime upon her to the police and intermittently appears to be trying to downplay its significance ever since.
Note: Earlier, I wrote a paragraph involving which side of her face the marks were on. Since then, I've seen multiple published pictures showing conflicting sides. I gather that this has something to do with taking selfies and is not terribly germane to this case, so I deleted that bit I wrote because it seemed to be a distraction.