From the front page of the
New York Times
:
White House Disagrees With F.B.I. Chief on Scrutiny as a Cause of Crime

By MICHAEL S. SCHMIDT and MATT APUZZO OCT. 26, 2015

WASHINGTON — The White House said Monday that it did not agree with the assertion last week by the F.B.I. director, James B. Comey, that additional scrutiny of law enforcement in the past year may have made police officers less aggressive, leading to a rise in violent crime in some cities.

"The evidence we have seen so far doesn't support the contention that law enforcement officials are shirking their responsibilities," the White House press secretary, Josh Earnest, said in response to a question about Mr. Comey at his daily briefing. "In fact, you hear law enforcement leaders across the country indicating that that's not what's taking place,"

In a speech at the University of Chicago on Friday, the F.B.I. director said there might be many factors — like cheaper drugs and easier access to guns — that had spawned an increase in crime. But none of them were as convincing to him as the notion that officers were afraid to get out of their patrol cars and deal directly with people on the street because the officers were afraid their interactions would be caught on video.

Mr. Comey acknowledged there was no data to back it up, but he said law enforcement leaders and officers had told him it was affecting policing.

"I spoke to officers privately in one big city precinct who described being surrounded by young people with mobile phone cameras held high, taunting them the moment they get out of their cars," Mr. Comey said. "They told me, 'We feel like we're under siege and we don't feel much like getting out of our cars.' "

Many have called it "the Ferguson effect," referring to the protests that erupted in the summer of 2014 after a white police officer fatally shot an unarmed black man in Ferguson, Mo. But this explanation for a crime increase has been criticized because it can be seen as suggesting that those who protest police tactics are in part to blame for violent crime. It can also be interpreted as an accusation that police officers are not doing their jobs while crime rises.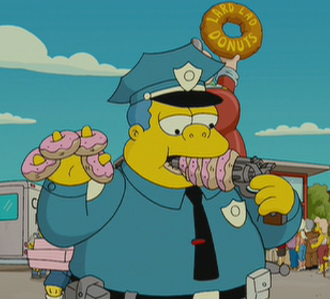 That's what happened in the 1960s. Liberals like the Warren Court and the Lindsay Administration in NYC took control of the criminal justice Narrative, blacks acted out, and the police retreated to the donut shop.
Here's a three word lesson that social theorists should keep in mind: Cops Like Donuts.
Mr. Comey's remarks angered Justice Department and White House officials, because they saw them as undermining the administration's criminal justice policies. Holding the police accountable for civil rights violations has been a top priority for the Obama administration in recent years, and several officials privately fumed at the suggestion that criticizing the police had led to violent crime.

In Mr. Comey's speech, he also appeared out of step with the administration over whether the imprisonment of thousands of criminals in the 1980s and 1990s — when there were high rates of crime in many cities — could be called "mass incarceration."

Mr. Comey said these prosecutions "didn't happen 'en masse.' "

"Each drug dealer, each mugger, each killer, and each felon with a gun had his own lawyer, his own case, his own time before judge and jury, his own sentencing, and, in many cases, an appeal or other post-sentencing review," Mr. Comey said. "There were thousands and thousands of those individual cases, but to speak of 'mass incarceration' I believe is confusing, and it distorts an important reality."

Many of the Obama administration's criminal justice initiatives focus on undoing policies from the 1980s and 1990s that disproportionately affect minorities.
Meanwhile, also from the front page of the
New York Times
:
The authorities in South Carolina are investigating an encounter captured on two videos that went viral Monday afternoon that show a white school police officer in a Columbia classroom grabbing an African-American student by the neck, flipping her backward as she sat at her desk, then dragging and throwing her across the floor.

The videos, apparently shot by students in the classroom, were picked up by national news outlets and had ricocheted across social media platforms by Monday evening, sparking a new round of angry and anguished debate over how police officers treat African-Americans.
I'd add that in this chain of cause and effect, probably an earlier impetus is a development that very seldom makes the front page of the
New York Times,
but has been having a dark energy effect for the last half decade or so: the rise of
World Star Hip Hop
-style online videos of blacks behaving badly, usually camera-phoned by other blacks.
It's a big country and there always something spectacularly screwed up going on. The rise of random video unfiltered by the Narrative has caused a chain reaction of attempts to re-impose Narrative on what you are seeing with your lying eyes.