Veteran fantasy director Tim Burton has a new movie out starring Eva Green, Asa Butterfield, Samuel L. Jackson, Judi Dench, and Rupert Everett that's set on an island off the coast of Wales during WWII.
From the Los Angeles Times:
Commentary: With 'Miss Peregrine,' Tim Burton is just the latest director to shirk a responsibility to diversity

Marc Bernardin

Apparently, director Tim Burton would be fine if you retitled his movie "Miss Peregrine's Home for Peculiar Children but Only if They're White."

In an interview with the website Bustle, Burton was asked why, given the pervasive, ongoing discussion of diversity in Hollywood, the overwhelming majority of the characters (and, hence, actors) in his latest fantasy film are white.

"Nowadays, people are talking about it more," Burton said. But "things either call for things, or they don't."

He went on to talk about how, as a kid, he would've been dismayed to see an Asian kid or a black kid on "The Brady Bunch," or more white actors in blaxploitation movies. (Never mind that there were white actors in blaxploitation films, but more on that later.)

Burton's statements are just the latest from a celebrated, veteran filmmaker unable to wrap his mind around why diversity matters.

Ridley Scott, when discussing the casting of white actors to play characters of Middle Eastern and North African descent in his "Exodus: Gods and Kings," told Variety: "I can't mount a film of this budget, where I have to rely on tax rebates in Spain, and say that my lead actor is Mohammad so-and-so from such-and-such. I'm just not going to get it financed. So the question doesn't even come up."

And, of course, there was a logic to Scott's statement, just as there is some to Burton's. You need a movie star to make a $150-million biblical epic feasible, so you get Christian Bale. No one faults him there. But there is no reason why Seti, a pharaoh of Egypt, needs to be played by John Turturro doing a bad Britishy accent. None.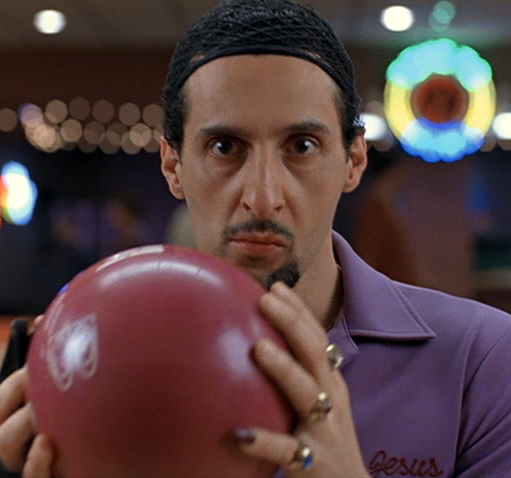 I didn't see Turturro in the Moses movie, but I've seen him in a million other movies, and there are very good reasons why somebody that funny-looking keeps getting hired by top directors. He ranks with Steve Buscemi, John Goodman, and a few others as among the best character actors of his generation.
By the way, Turturro is said to be currently reprising his role from The Big Lebowski as bowling pedophile Jesus Quintana in a remake of the 1974 Gerard Depardieu movie Going Places. (Keep in mind that somebody could be making a hash of this news report: it's not common practice to drop a memorable character from one movie into a remake of another. But then again, with Hollywood so averse to original movies these days, maybe hybrids will turn out to be a reasonable compromise. Or not.)
How dare an Italian-American actor culturally appropriate Mexican pedophilia when America has no shortage of Mexican pedophiles to play Jesus Quintana?
The majority of the action in Burton's "Miss Peregrine's" takes place on an island off the coast of Wales during World War II. In Burton's view, apparently, this fantastical school for fantastical children needn't be burdened with having to mirror the population of the United Kingdom at that time — which boasted millions of people born abroad, from places like India, Jamaica, Pakistan and various African countries. Not a huge percentage of the population, mind you — according to a 1951 census, 4.2% of the total U.K. population — but enough.
4.2% nonwhite? Really?
Nope. The 4.2% figure for the 1951 UK census refers to foreign-born residents of Britain (PDF), who tended to be people who looked like, say, Audrey Hepburn, who was born in Belgium. That % includes Canadians like Lord Beaverbrook, Australians, New Zealanders, South Africans, and the like. Most of all, it included people who had been born in the Republic of Ireland, such as the future Poet Laureate of England, Cecil Day-Lewis (father of actor Daniel Day-Lewis), whose father was a (Protestant) Church of Ireland minister.
I can't find breakouts of the origins of the "foreign born" for the 1951 Census, but even as of the 1971 British Census, a large majority of the foreign born were Europeans, North Americans, Australians and Kiwis.
And keep in mind that during this era, a sizable fraction of people resident in Britain who had been born in India, Kenya, Jamaica and the like were white ex-colonials, such as Joe Strummer's dad (born in Lucknow, India) and Richard Dawkins, who was born in Kenya in 1941, but has lived in England since 1949. Three of the greatest of all English writers, Thackeray, Kipling, and Orwell, had been born in India.
And that's not considering the native-born people of color whose ancestors had emigrated to Britain, either by choice or by force, since the 16th century and became part of the fabric of British society.
Like, uh …
Here's the actual number of "visible minorities" in the 1951 census: 94,500.
The population of Britain in 1951 was a little over 50 million, so the 94,500 visible minorities represented 0.19% of the population. So that's fewer than 2 out of every 1000.
Almost all of them lived in a few big cities, such as London. How many of that 0.19% you could expect to find on an island off the coast of Wales during the early 1940s is, well, uh, probably not something to get worked up over.
Burton's heroes are always versions of himself: thin, pale, white outcasts. From "Edward Scissorhands" to "Ed Wood," "Alice in Wonderland" to "Willy Wonka."

A filmmaker is allowed his or her perspective on the world. That's what makes them unique. Just as we, the audience, are allowed to wonder why, in his mind, the only color an outcast hero can be is white.
Why does Tim Burton cast as his main characters actors like Johnny Depp, just because Depp is the Movie Star Version of Burton? That's racist. Burton should make movies where the hero the director identifies with is played by The Rock.
Speaking of diversity, Tim Burton is one of my fellow Valley Guys, along with, say, Bryan Cranston, Adam Carolla, Ron Unz, Paul Thomas Anderson, Michael Milken, and so forth and so on. Do those of us who grew up in the San Fernando Valley around the same time have all that much in common? Maybe, but then again, maybe not. It would seem like a pretty broad range of personalities.
Speaking of Tim Burton reminds me of the ancestry of his two kids, whose mother is British actress Helena Bonham Carter. Their offspring together are the great-great-grandchildren of H.H. Asquith, who was prime minister from 1908-1916. The PM's daughter, their great-grandmother Violet Asquith Bonham Carter (1887-1969), was a famous wit who was Winston Churchill's closest female friend.
Violet's name appears constantly throughout Churchill's journalism. But here's an interesting story that I only learned of recently, written by Michael Shelden for the Daily Mail in 2012:
At the end of a long, relatively uneventful Edwardian summer, the papers were suddenly full of dire news about the 21-year-old daughter of the Prime Minister, Herbert Asquith.

The headlines were shocking: 'Premier's daughter missing', said one; 'Miss Asquith's peril', warned another. She had been reported missing at Cruden Bay on the Scottish coast, where the family had been spending their holiday in September 1908 at a rented fortress with the ominous name of Slains Castle.

After a dangerous search lasting half the night, Violet Asquith was finally discovered lying in wet grass on a rocky ledge above the sea — uninjured but apparently barely conscious.

A doctor was summoned and she quickly revived. But rumours continued to swirl: had she fallen by accident or had there been foul play? Some even whispered that she might have been intentionally trying to harm herself.

The Prime Minister moved swiftly to quiet any speculation by offering an innocent tale about his daughter stumbling in the dark. But no one could explain why Violet had remained missing for so many hours. It took several days of determined stonewalling before the Press stopped asking questions.

What happened that night has long remained a mystery — but buried in the Asquith family papers, now at the Bodleian Library in Oxford, I have discovered an astonishing revelation: the story of Violet Asquith's brush with death is inextricably linked with her doomed love for a rising young star in her father's Liberal cabinet — Winston Churchill.
[
Comment at Unz.com
]