From
The Independent
:
Ukraine crisis: Kerry warns Putin 'This is not Rocky IV'
This picture of Secretary of State John F. Kerry, who towered over George W. Bush in the 2004 presidential debates, meeting a month ago with three leaders of the former Ukrainian opposition (From left: heavyweight champ Vitali Klitschko, Petro Poroshenko, John Kerry, and
Victoria Nuland's favorite
Arseniy Yatsenyuk), reminds me of just how many Eastern European politicians are Ivan Drago-sized.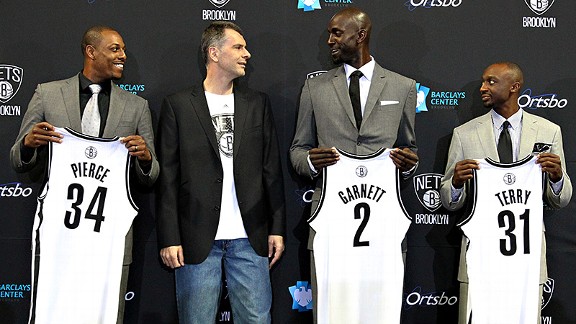 For example, here's a picture of Russian oligarch
Mikhail Prokhorov
, who came in third in the 2012 Russian presidential election with 8% of the vote. He's now owner of the Brooklyn Nets of the NBA. The only one of his three players in this picture who is taller than the boss is Kevin Garnett, who is a seven-footer.
The Russians don't lack enormous boxer-politicians either. From today's
NYT
:
Three high-profile members of Russia's lower house of Parliament arrived in Crimea on Thursday, visiting the city that is home to Russia's Black Sea Fleet. "I arrived in Sevastopol to support residents of Crimea," Nikolai Valuev, a former boxing champion who was elected to the Parliament in 2011, wrote on Twitter. "Friends, Russia is with you."...
Mr. Valuev, an unmistakable presence at 7 feet 1 inch tall, described the visit as a fact-finding mission "to personally interact with the residents to know the situation from the inside."
Like many officials in Russia, he said the crisis in Ukraine, or at least the foreign news media reporting on it, was clouded by Western propaganda. "There is an information war," he wrote on Twitter.
Valuev is quite the debonair-looking fellow. Polish sculptor
Stanislaw Szukalski
(1893-1987) would have felt vindicated.
I was hoping to find a picture of Parliamentarian Valuev with President Putin. But, perhaps not surprisingly, Putin doesn't seem to have been enthusiastic about arranging that photo-op.


Here's a photo of Putin with Leonardo DiCaprio (5'11.5"). (And here's a link to a photo of DiCaprio sitting on Szukalski's lap, but that's getting completely offtrack.)
The Klitschko-Valuev dispute isn't just geopolitical, it's personal. From Bleacher Report in 2010:
Vitali Klitschko Calls Russian Giant Nikolai Valuev a "Chicken"
By Colin Linneweber , Senior Writer Mar 11, 2010

WBC world heavyweight champion Vitali "Dr. Iron Fist" Klitschko called former two-time WBA heavyweight titlist Nikolai Valuev a "chicken" this week for rejecting a $2.5 million contract offer to fight this spring.

Instead of scrapping the enormous Russian Valuev (50-2-0-1, 34 KOs), Klitschko (39-2, 37 KOs) will defend his crown versus Polish pugilist Albert Sosnowski (45-2-1, 27 KOs) on May 29 in Germany.

"I don't want to speak bad about him, but I gave Valuev the biggest financial proposal of his career," said Klitschko, 38, a Ukrainian who has the highest knockout percentage (94.9 percent) of any heavyweight champion ever.
"He [Valuev] told me 'No, four.' There are two reasons why he's done this. Firstly, he wanted to say no anyway. Four million is unrealistic for someone who has just lost their title. The second point is that he understands if the loses to me straight after losing his title, that's it for him. Valuev is a chicken."

Russian immigrant Alex Yuzhakov stated that he agrees with Klitschko that Valuev is indeed a coward.

"Klitschko is right, Valuev is a chicken," said Yuzhakov, 28, who was born in Moscow and currently resides in Somerville. "For a Russian man to turn down $2.5 million a lot of fear must have been involved. Maybe he's waiting for a more opportune time to fight Klitschko. No matter, he will never beat the true ex-Soviet beast."

P.S., a commenter has found a photo with Putin and Valuev in the same frame: