On Twitter, Battle Beagle calls my attention to this table from the International Technology Innovation Foundation's 2016 report on The Demographics of Innovation in the United States: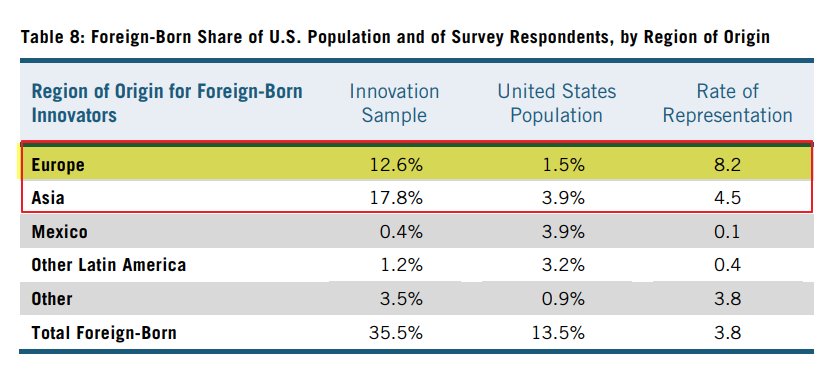 They did a survey of 923 leading technology innovator individuals. Only about four (0.4%) were born in Mexico, although Mexican-born people make up 3.9% of the population resident in the U.S. (according to the Census Bureau). In contrast, 12.6% of their sample were born in Europe even though European-born people make up only 1.5% of the U.S. population.
So European immigrants are about 82 times (and Asian immigrants about 45 times) as likely to be innovators as Mexican immigrants.
Indeed, it would appear that Mexican immigrants are somewhat less innovative than African immigrants. (Warning: tiny sample sizes.)
This doesn't mean that Mexico doesn't have highly skilled and inventive individuals. For example, cameraman Emmanuel Lubezki won three straight Best Cinematography Oscars recently. He's extremely innovative. But mostly Mexico is not a culture that inculcates innovation, and Mexican immigrants aren't generally from the thin layer of innovative people.
[
Comment at Unz.com
]