If you've been following the news lately, you'll know that one of the most important issues in the world, perhaps second only to transgender awareness, is The War on The War on Women. As you hopefully have been informed, men and women are two separate species locked in an endless zero sum war of attrition, so it's very, very important for society to focus on promoting women, and not get distracted by irrelevant details about precisely which women get promoted. The women getting the really good jobs aren't doing it for themselves, they're doing it to make the world better for all of us.
Stay focused, people.
For example, it was extremely important that Janet Yellen rather than Larry Summers get to be the Chairperson of the Federal Reserve Board because they come from such wildly different backgrounds: she was a girl and he was a boy. We're talking diversity. Similarly, if you've been paying attention to the news, you know that it's crucial that Sheryl Sandberg's Silicon Valley career thrive.

You go, girl!
From Fortune: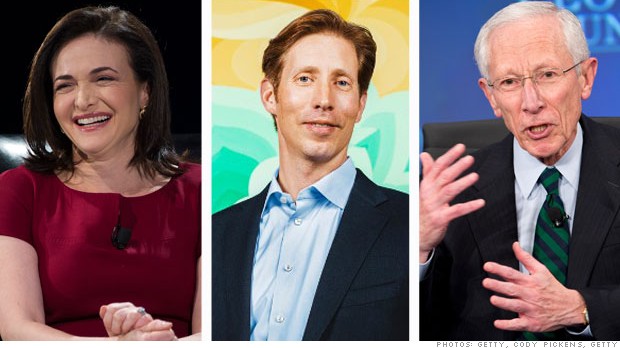 What Facebook's Sandberg shares with the Fed's next vice-chair
By Patricia Sellers January 13, 2014: 11:38 AM ET

Facebook exec David Fischer and his dad, Fed choice Stanley Fischer, are both well-suited to work for powerful women bosses.
FORTUNE — Sheryl Sandberg must be the most politically connected executive in Silicon Valley.

There she was in Washington, D.C., last month when President Obama hosted a powwow with tech honchos at the White House.

Fifteen years earlier, the Facebook (FB) COO served as chief of staff to Larry Summers when he was Treasury secretary in the Clinton administration.

And last year, when Summers was being considered to chair the Federal Reserve, Sandberg leaned in to support him.

Sandberg's mentor didn't get the Fed job—it went to Janet Yellen. But now it appears that Sandberg will have one degree of separation from the next No. 2 at the Fed. Obama's choice to be the Fed's next vice-chairman is Stanley Fischer, whose son David is Sandberg's longtime deputy.

David Fischer is VP of Advertising and Global Operations at Facebook. Before Sandberg lured him to Facebook in 2010, he spent more than seven years working for her at Google (GOOG), helping her build a 4,000-employee ad operations group—and taking her job as VP of online sales and operations when she left. Famously thoughtful, calm and unflappable, Fischer first earned Sandberg's praise when he worked for her at Treasury.

Like son, like father? Apparently. The elder Fischer, whom Sandberg indeed knows, is renowned as a low-key, low-ego, and evenhanded economist—the same rep that Yellen has. Once Ben Bernanke's thesis adviser at MIT, Stanley Fischer, 70, has been the World Bank's chief economist, the IMF's No. 2, a Citigroup (C) vice-chairman, and the head of the Bank of Israel, where he steered the central bank through the 2008 global economic crisis with remarkable finesse.

That's such an impressive resume that some people doubted that Fischer would agree to be No. 2 at the Fed—but Yellen reportedly pushed the White House to ask him. If he's confirmed, Fischers father and son will be working for two of the most powerful women in the world.

And that's what really matters.