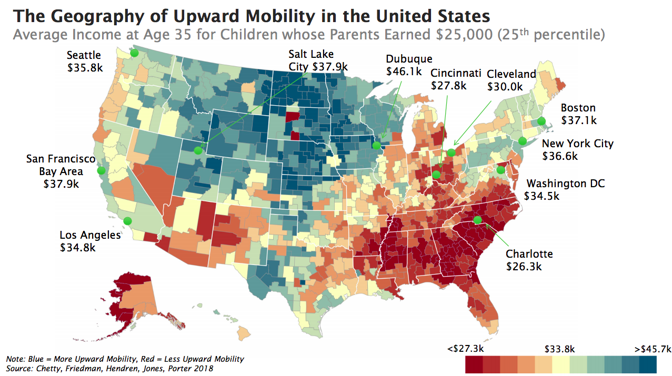 From The Atlantic:
How Do Rich Neighborhoods Exist So Close to Poor Ones?
The research of the Harvard economist Raj Chetty shows that the scale of inequality is incredibly small.

JOE PINSKER
JUN 26, 2019
Chetty's 2018 graph shows that the best place for a lower income (25th percentile) family to have lived in the 1990s for the benefit of their children in the 2010s is the northern Great Plains. The Atlantic's graphic shows that the children of working class families in Dubuque, Iowa make almost 25% more than the children of working class families in the booming San Francisco Bay Area.
But nobody gets the joke.
Raj is also promoting the idea that within metro areas, certain neighborhoods have the Magic Dirt.
Huge gaps in economic prospects, in other words, frequently exist across very short distances. And it's a bit jarring just how short those distances can be. "Poverty rates that are more than about half a mile away from your house are essentially completely irrelevant in predicting your own outcomes," Chetty told an audience at the Aspen Ideas Festival, co-hosted by the Aspen Institute and The Atlantic. Which is to say, a high rate of poverty in the area immediately surrounding one's home can be stifling, even if a "higher opportunity" neighborhood with great schools is only a short distance away.
From his 2018 paper:
This list shows affordable neighborhoods where children growing up in low-income (25th percentile) families grow up to earn the most in each metro area. We define "affordable" neighborhoods as those that have two-bedroom median rents below $1500 per month and have not experienced substantial changes in mean incomes or rents in the past decade. Click here for an expanded list covering other cities.

Affordable High-Opportunity Neighborhoods in the 10 Largest Metro Areas
 Oxon Hill (Washington DC)
 North Quincy (Boston)
 Alhambra/San Gabriel (LA)
 Laurel/Dimond (San Francisco)
 Bedford Park (NYC)
 Harper Woods (Detroit)
 Druid Hills/North Druid Hills (Atlanta)
 Oxford Circle/Castor (Philadelphia)
 West Ridge/West Rogers Park (Chicago)
 Alief (Houston)
Okay, well, I looked up on Wikipedia the two metro areas I've lived in in this century.
Alhambra and San Gabriel in Southern California's San Gabriel Valley are both majority Asian:
The racial makeup of Alhambra was 43,957 (52.9%) Asian, 23,521 (28.3%) White, (10.0% non-Hispanic White),[5] 1,281 (1.5%) African American, 538 (0.6%) Native American, 81 (0.1%) Pacific Islander, 10,805 (13.0%) from other races, and 2,906 (3.5%) from two or more races. Hispanic or Latino of any race were 28,582 persons (34.4%).

The racial makeup of San Gabriel was 24,091 (60.7%) Asian, 10,076 (25.4%) White (11.4% Non-Hispanic White), 388 (1.0%) African American, 220 (0.6%) Native American, 43 (0.1%) Pacific Islander, 3,762 (9.5%) from other races, and 1,138 (2.9%) from two or more races. Hispanic or Latino of any race were 10,189 persons (25.7%).
And West Ridge (a.k.a., West Rogers Park) on Chicago's far north side, adjoining posh Evanston, is 68% white or Asian:
Demographics 2015[1]
• White 44.28%
• Black 11.23%
• Hispanic 17.55%
• Asian 23.36%
• Other 3.58%
So, the best advice seems to be to not only move to a racially upscale neighborhood, but be racially upscale, even if your income doesn't match it yet.
Chetty has had this amazing run lecturing on Magic Dirt vs. Tragic Dirt to people who can't imagine that regression toward the mean could apply to people.