Like a bad penny,
Jessica Colotl
has turned up again. Colotl is a Mexican illegal alien who has been in the news since 2010 and I have been
writing about her since then
, and
calling for her deportation
. Unfortunately, our problem with the zaftig illegal alien was not solved by President Trump in his first days in office. He failed to abolish the Deferred Action For Childhood Arrivals (DACA) and now he and the Constitution are paying the price.
Previously, Colotl had her DACA status revoked because of her admission in court to committing a felony offense. Colotl was given diversion for the felony offense of lying to a police officer, but she still had a misdemeanor offense on her record for driving without a license. The diversion and her admission to the crime which enabled her to qualify for diversion is sufficient to exclude an alien from the United States, and since Colotl was not lawfully present INA 212(a)(2)(A)(i) of the Immigration and Nationality Act (INA) applies:
INA: Chapter 212 - General Classes Of Aliens Ineligible To Receive Visas And Ineligible For Admission; Waivers Of Inadmissibility:

(2) Criminal and related grounds.-

(A) Conviction of certain crimes.-

(i) In general.-Except as provided in clause (ii), any alien convicted of, or

who admits having committed, or who admits committing acts which constitute the

essential elements of-

(I) a crime involving moral turpitude (other than a purely political offense)

or an attempt or conspiracy to commit such a crime

[Service Law Books, USCIS]
Before this writer could address the Colotl loss of her DACA status, she filed a lawsuit to overturn the revocation of her DACA status and impending deportation, and a Federal kritarch, Mark Cohen intervened in her case, ordering the reinstatement of her DACA status, despite the fact that DACA is merely the exercise of prosecutorial discretion.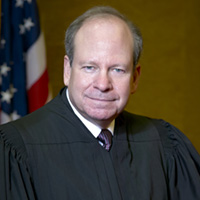 Kritarch Mark H. Cohen
Obese Illegal Alien Jessica Colotl
Protection from deportation was temporarily restored Monday to a Mexican woman who became a well-known figure in the illegal immigration debate as a college student seven years ago.

U.S. District Judge Mark Cohen ordered the federal government to temporarily reinstate Jessica Colotl's protection under the Deferred Action for Childhood Arrivals program, known as DACA, while it reconsiders her eligibility. Immigration authorities last month had terminated her protected status.

[Mexican Woman's Deportation Protection Temporarily Restored, by Kate Brumback, AP/Philly.com, June 12, 2017]
Initially, the government made the correct argument in court that Colotl's admission of guilt was sufficient to remove her from the illegal and unconstitutional DACA program. Illegal because DACA was not authorized by Congress and unconstitutional because the President cannot usurp the legislative authority of Congress over immigration.
A spokesman for U.S. Immigration and Customs Enforcement said last month that Colotl's DACA status was revoked because she admitted guilt in 2011 to a felony charge of making a false statement to a law enforcement officer during the 2010 traffic stop and entered a pretrial diversion program. Colotl's attorneys, though, said that she complied with the program's terms and has no felony conviction.
However, for some strange reason, the government lawyers, Deep State operatives no doubt, conceded that the above part of the INA does not apply to Colotl.
The government lawyer also confirmed that Colotl's pretrial diversion agreement isn't considered a felony conviction for immigration purposes, but speculated that the decision may have been based on a misdemeanor conviction for driving without a license, Cohen wrote.
The Deep State operative who argued in front of Cohen was wrong to concede the claim that an admission to a crime is not sufficient, and even more wrong in conceding that there was no reason to remove her from DACA.
Cohen wrote in his order that a government lawyer was unable during a Thursday hearing to articulate the actual reason for the revocation of her DACA status and denial of her renewal application.
This is an important point, because DACA, as argued by Obama and placed in writing by the Department of Justice Office of Legal Counsel (DOJ OLC), is an exercise of prosecutorial discretion, e.g. it is the unreviewable authority of the executive to take action or not take action. That is what the Deep State saboteur should have argued before Cohen, but the plan was to sabotage the case by failing to uphold the law and the separation of powers doctrine. Conceding to the reviewability by the judiciary of prosecutorial discretion was more than a blunder, it was sabotage.
The principles of enforcement discretion discussed in Chaney apply with particular force in the context of immigration. Congress enacted the INA against a background understanding that immigration is "a field where flexibility and the adaptation of the congressional policy to infinitely variable conditions constitute the essence of the program." United States ex rel. Knauff v. Shaughnessy, 338 U.S. 537, 543 (1950) (internal quotation marks omitted). Consistent with this understanding, the INA vested the Attorney General (now the Secretary of Homeland Security) with broad authority to "establish such regulations; . . . issue such instructions; and perform such other acts as he deems necessary for carrying out his authority" under the statute.

[The Department of Homeland Security's Authority to Prioritize Removal of Certain Aliens Unlawfully Present in the United States and to Defer Removal of Others, Karl Thompson, DOJ OLC, November 19, 2014]
However, Kritarch Cohen decided that the judiciary can now review prosecutorial discretion decisions. This is a horrendous power grab by the kritarchs. Judges can now not only judge criminal and civil cases, but also make the prosecutorial decisions themselves. Basically Kritarch Cohen has abolished the Executive and Legislative Branches of government, creating a judicial dictatorship, a kritarchy. This kritarch has fundamentally assaulted the separation of powers principle in the Constitution. Cohen is assuming the full power of the executive branch to administer his own executive amnesty for illegal aliens. Something this writer
warned
about.
And this is all the fault of President Trump. His failure to end the DACA program has now resulted in the creation of a permanent program of amnesty for illegal aliens administered by kritarchs usurping the authority of both Congress and the President.
It is time to impeach Kritarch Howard Cohen! President Trump should slap down Kritarch Cohen by ending the DACA program and should fire John Kelly for his support for this egregious and unconstitutional program now in the hands of the kritarchs that is doing so much damage to the Constitution and the Trump Administration.