https://www.youtube.com/watch?t=10&v=D-nfueovttc
Here's the latest video from ¡Jeb!
(Note the "¡Jeb!" sign on the wall behind the head of ¡Jeb! at the 0:10 mark in the video.)
The candidate campaigns in Spanish, while the potential First Lady says a few lines in English.
It strikes me that ¡Jeb! and Columba seem to be running less for President and First Lady of the Republic than for, say, Hereditary Dual Monarchs of the Americo-Mexican Empire, kind of the way the marriage of Ferdinand of Aragon and Isabella of Castile, the Catholic Monarchs, more or less created the Kingdom of Spain. (King Henry VIII's shameful treatment of their daughter, Katherine of Aragon, could thus be finally avenged.)
A major duty of a Royal Family is to carry out family life in public, and who better to represent the future subjects of the Americo-Mexican Empire than Queen Columba, King ¡Jeb!, handsome young Prince George P., what's her name the druggie, and that guy, the other brother.
The most famous Dual Monarchy was the Austro-Hungarian Empire of 1867-1918. Here's the rather complicated coat of arms of the Austro-Hungarian Empire that was introduced in 1915.
Unfortunately for all the hard work the heralds put into this design, the Austro-Hungarian Empire only lasted three more years.
But it at least set a high standard of heraldry for the Americo-Mexican Empire to aspire to. It's not too early to think about what joint symbols should look like. Here's the official coat of arms of Mexico:
The U.S. doesn't exactly seem to have a coat of arms, but here's the seal: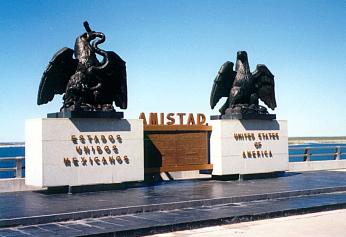 I don't think the Americo-Mexican Empire would need complicated dual symbols like the Austro-Hungarian Empire used.
Instead, we could just hybridize the two eagles into one the way charming Prince George P. Bush along with his two dud siblings represent a merger of the two peoples.
I'm sure the high-priced consultants employed by ¡Jeb! could hire a graphic artist to merge these two rather similar images into one: e.g., a bald eagle could be sitting on a cactus eating a snake on which is tattooed "E Unum Pluribus," like Al Gore used to say.
Here's a flag for the new Americo-Mexican Empire under the benevolent joint monarchy of Queen Columba and King ¡Jeb!