Think back to the
scene
in
Casablanca
when the "shocked" Capt. Renault (Claude Rains) orders Rick's Cafe Americain closed upon
"learning"
that gambling was going on there but then thanks a cafe employee who hands him his winnings for the evening.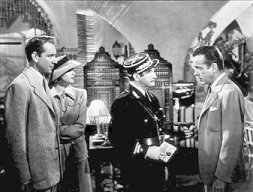 Fast-forward to Aug. 23, 2006, when Ill. State Rep. William Delgado
says
he was taken aback by Cook County Commissioner Roberto Maldonado's statement that he wants to make Cook a
"sanctuary for immigrants."
"I am very concerned as a state legislator not to send the wrong message to perpetuate illegal immigration,"
said Delgado. But Delgado has
repeatedly supported legislation
giving driver's licenses to the state's 400,000 illegals and last year voted for the bill, which later became law, recognizing as acceptable ID foreign consular cards like Mexico's matricula. No matter how much
time goes by
, kid, we'll always have sharply-dressed, two-faced, CYA politicians like Delgado who know when not to stick out their necks for nobody. . .