From
MSN
, an account of the mounting pressure to tear down memorials to the notorious Confederate generals Christopher Columbus and Ulysses S. Grant:
A Whole New World: Columbus Statue Could Be Considered for Removal

Daniella Silva 46 mins ago

As the violence in Charlottesville has reignited a national debate over monuments dedicated to Confederate-era and other controversial figures, New York City is conducting its own review over "symbols of hate" and possibly taking aim at Christopher Columbus.

New York City Mayor Mayor Bill de Blasio has announced a 90-day review by a commission of all "symbols of hate" on city property in the wake of violence at a white nationalist rally in Charlottesville, Virginia, that was protesting the planned removal of a statue of Confederate general Robert E. Lee.

The move has opened questions about a variety of monuments in the city, including a 76-foot statue of Christopher Columbus in the heart of Manhattan's Columbus Circle.

City Council Speaker Melissa Mark-Viverito said on Monday she thought Columbus' history and treatment of indigenous people in Caribbean "has to be looked at."

"I will wait for the commission, as I said Christopher Columbus is a controversial figure to many of us particularly in the Caribbean and I think that that has to be looked at, when you have to look at history we have to look at it thoroughly and clearly," she said.

"I know some people may take offense to that but for many of us that come from the Caribbean islands, we see him as a controversial figure," she added.
Melissa Mark-Viverito
is ethnically a Conquistador-American.
… [Mayor] De Blasio was also asked Tuesday if the tomb of Ulysses S. Grant in the city should also be considered for removal, over claims of anti-Semitism for an order he gave during the American Civil War expelling Jewish people from the area of Kentucky, Tennessee, and Mississippi. Grant later apologized for the order.

The mayor said he was not "familiar with that history" but, "we don't tolerate anti-Semitism in New York City."

"We have to look at each one of these cases. We'll have a commission that does that," he added.

While Grant's memorial is in a city park, it is also a national monument and thus it was unclear what authority the city would have over changes to it.
Also there is that
colossal statue of Grant
in front of the U.S. Capitol.
It's gotta go too.
All of these monuments of Confederate generals have to go.
Even if, technically speaking, they weren't Confederates.
The point is, they were in America doing big things before Melissa Mark-Viverito's ancestors were in America.
So they give her bad feelz.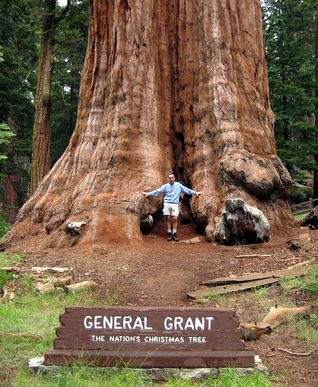 And don't forget to chop down the 267-foot-tall General Grant sequoia tree in King's Canyon National Park.
It's unofficial name is "The Nation's Christmas Tree," which sounds anti-Semitic, just like Grant.
Think of the children!
Better yet, nuke it from orbit.
It's the only way to be sure.